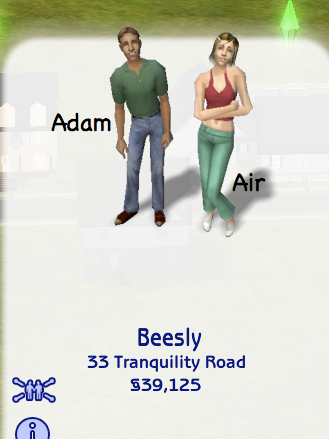 We're working our way through these new houses. This one belongs to Air Beesly and Adam Halpert. Air is the oldest daughter of Monica and Toyota Beesly, and Adam is the middle child of Apple and Shawn Halpert.
Hi, you two!
Air:
Hey, mysterious voice!
You two about ready to head down to the chapel?
Adam:
Yup. Just have to get our outfits in order.
You two picked out your own outfits...can't wait to see that.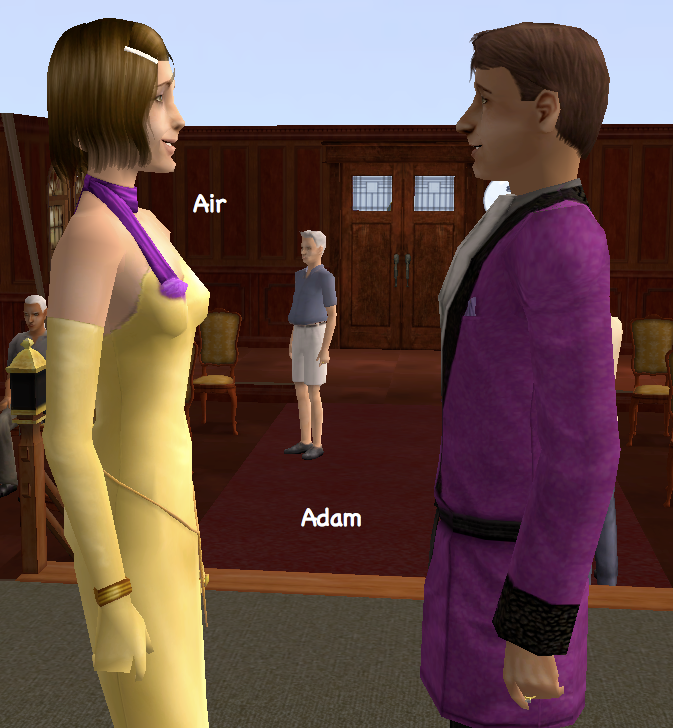 Well, they're horribly ugly outfits...but at least they're both equally ugly. And they sort of match.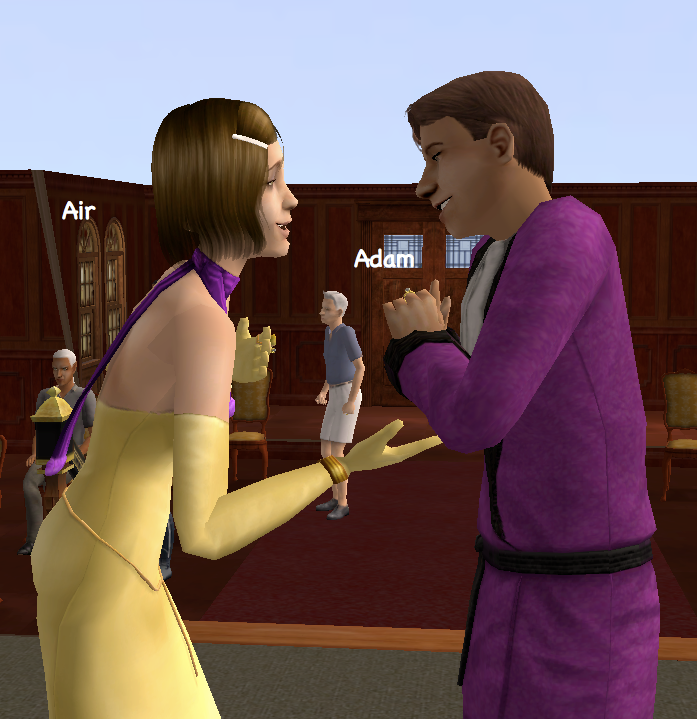 Aww...what a nice ceremony.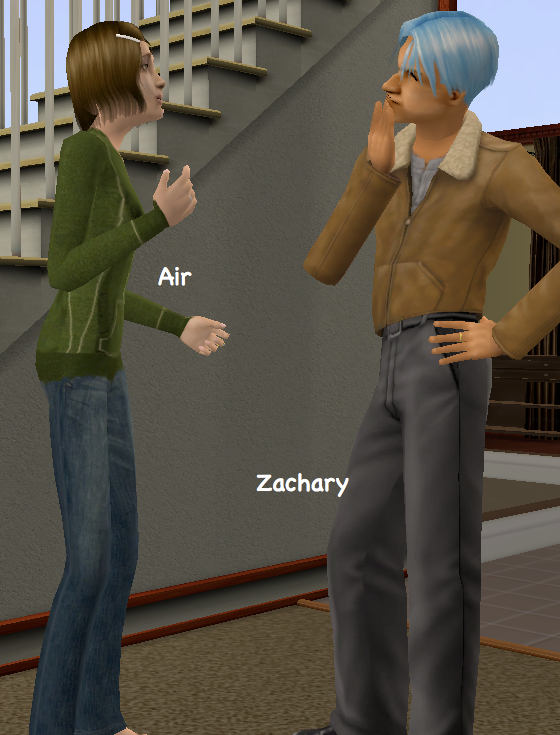 And being the popularity Sims that they are, Air and Adam jump right into the social game.
Air:
So...I can't help but notice that you're orange.
Although I think Air needs some better conversation topics.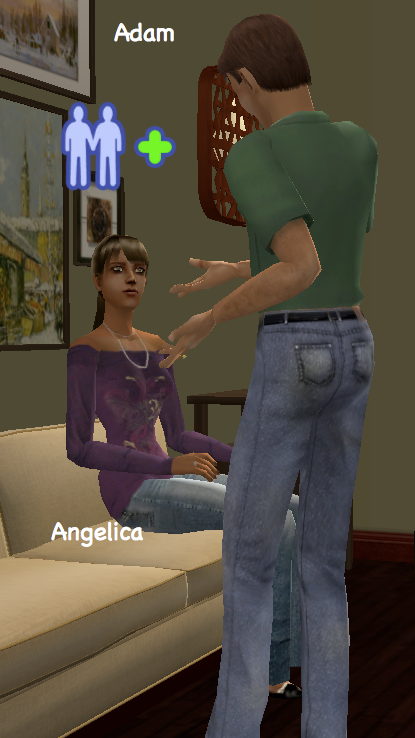 And Adam is attempting to make friends with Angelica?
Adam:
So...how's the baby?
Angelica:
Um, I'm trying to read here.
And failing.
I can't believe my little model is all grown up and married.
Air:
Model?
Yeah, don't you remember when I made you keep changing your clothes and took pictures of you?
Air:
Yeah, actually I do remember that. What was that about?
I just needed a cute little girl to try some stuff on. You fit the bill.
Adam:
Hey, how come I didn't get to model?
Um...I didn't have any boy stuff to try on until after you were a teenager.
Adam:
Oh...ok.
Anyway, do you want some privacy?
Air:
Yeah, we'd appreciate some alone time.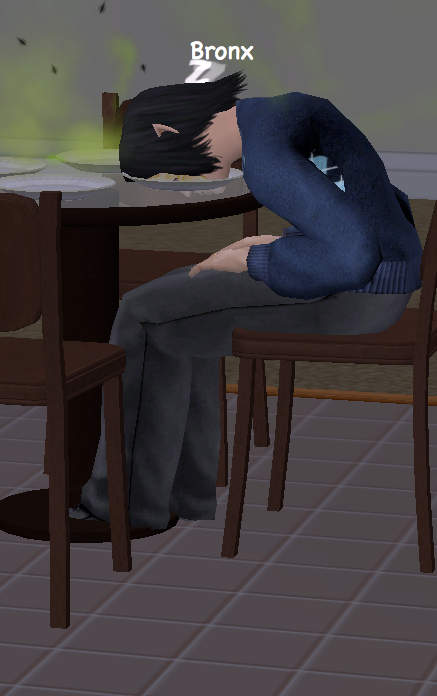 Although I don't think all of the guests got that message.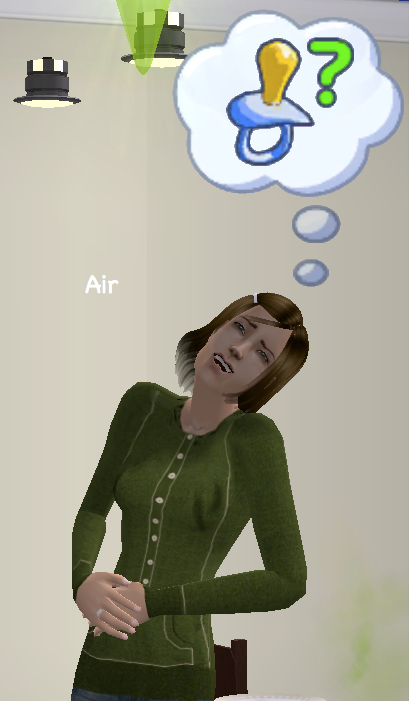 Air:
I don't feel so good.
Maybe it's all the rancid food that you guys left around the kitchen.
That would explain the stomach problems.
Air:
Yes, it would.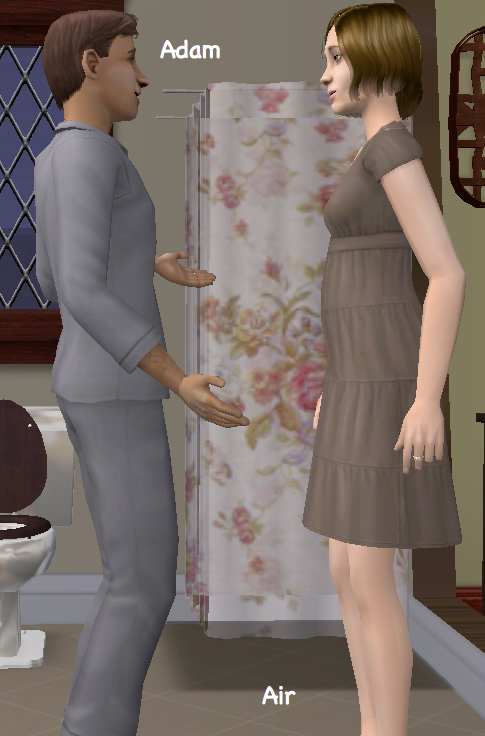 Air:
So you're really happy about the baby?
Adam:
Of course I'm happy about the baby! It does seem a bit fast, but everything here seems to happen fast.
Glad I'm not the only one who noticed it.
Let's sue...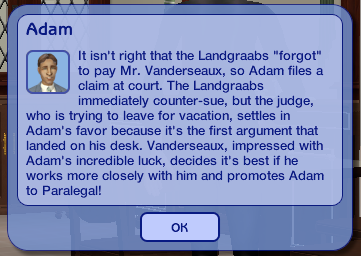 Yes!
Nice going, Adam.
Adam:
Thanks.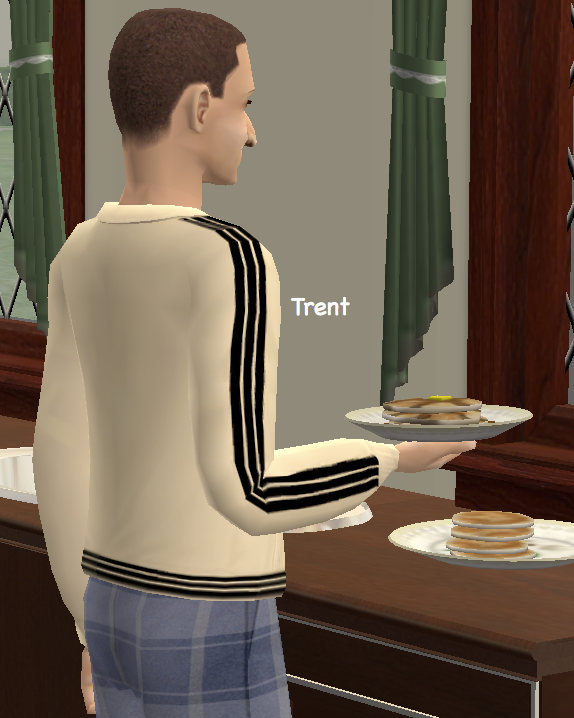 Um, Trent?
Trent:
Yes?
May I ask why you're here eating Air and Adam's food?
Trent:
I don't know. I just stopped by.
Did anyone invite you in?
Trent:
No. But the pancakes smelled good.
Unbelievable.
Well, clearly you're not Adam...
Air:
It's ok. Both our names start with A-I can see how you can get confused.
Do me a favor and don't name the baby anything staring with A, please.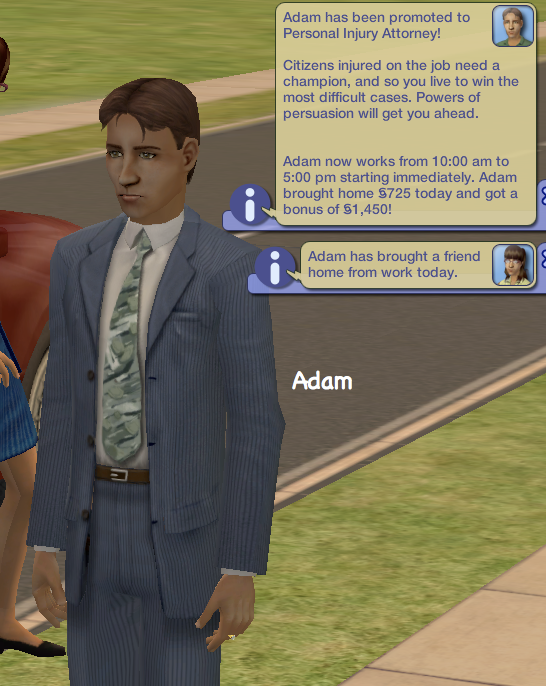 Congrats on the promotion, Adam.
Adam:
Thanks, mysterious voice.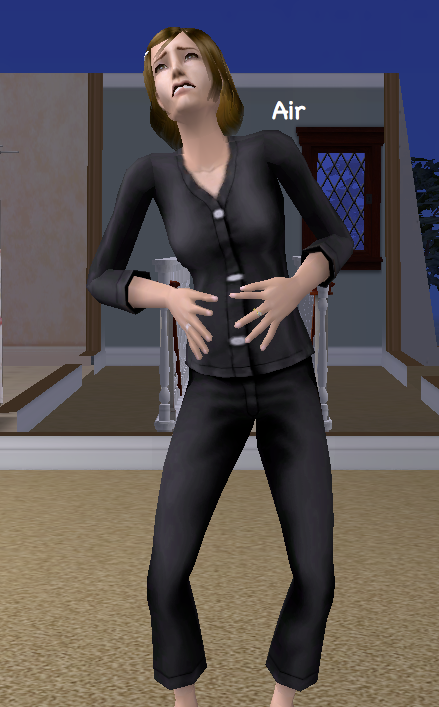 Air:
I think something's happening....
It's baby time!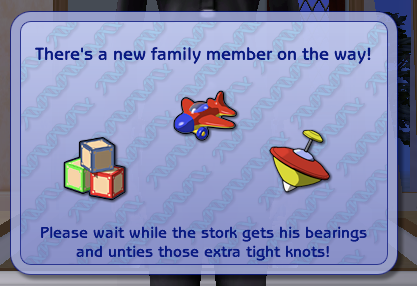 Whew, just one...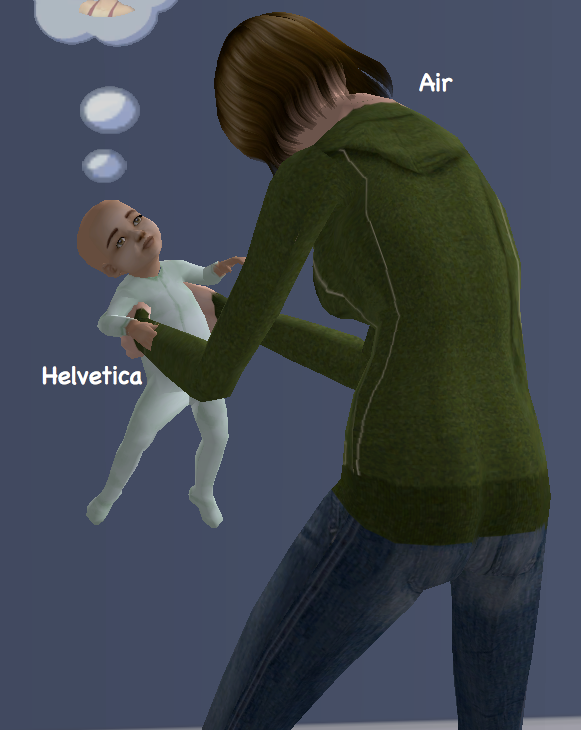 Air:
It's a girl! Meet baby Helvetica!
Great! Let me get a picture.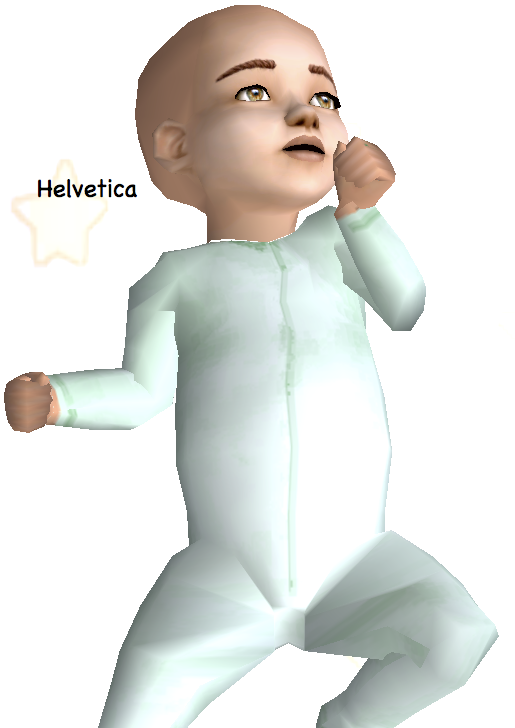 Aww, she's cute. She already looks like her mom.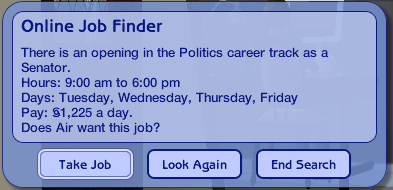 Looks like Air's finally in the right career track.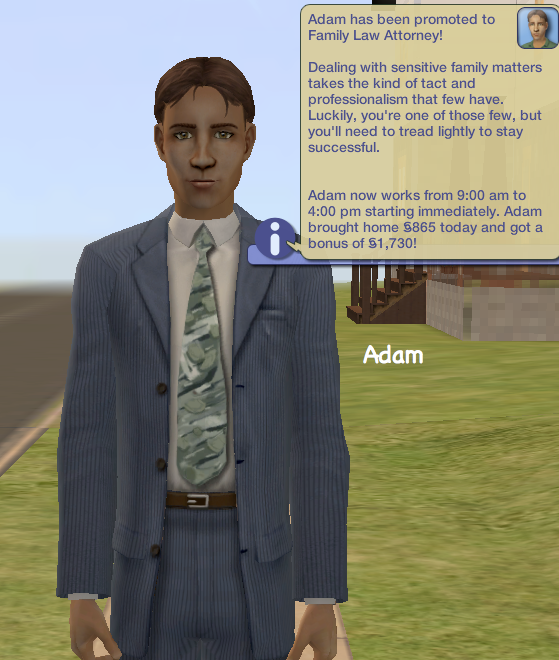 Congratulations, Adam.
Adam:
Thanks, but I don't think I'll be staying in the law career very much longer.
What? But you're doing so well.
Hmm, a new job for Adam. I wonder what sparked the change.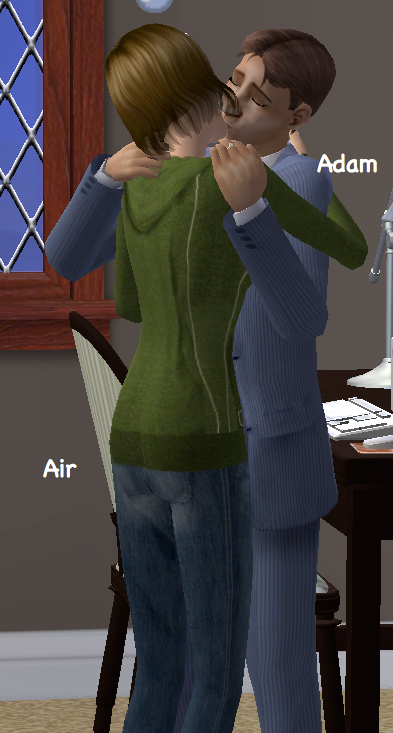 Looks like being new parents hasn't come between you two.
Look who came over! It's Grandpa Toyota.
Toyota:
Shh! I'm not that old yet.
Air:
Glad you could come by for the party, Dad.
Party? That must mean...
Happy birthday, dear Helvetica...
She's cute, but I think a makeover is in order.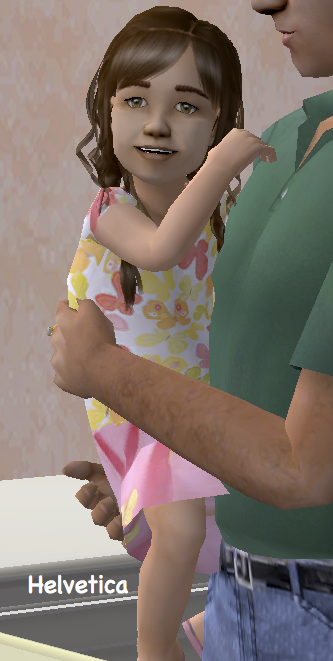 That's much better...you can totally see the resemblance to her mom.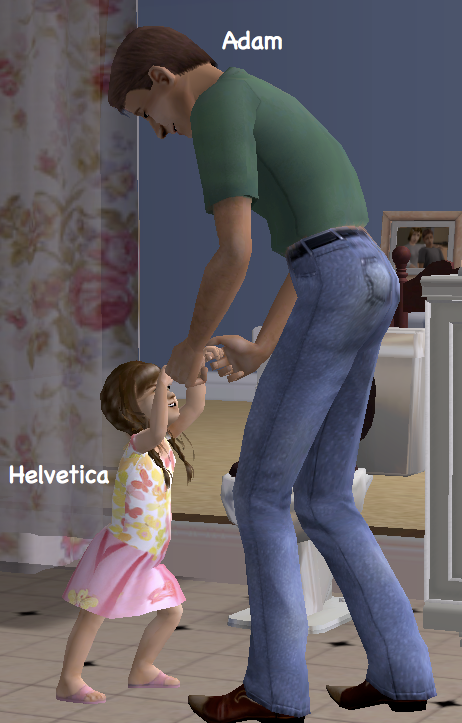 And so the teaching begins.
Adam:
Come on, Helvetica. You can do it.
Air:
Can you say "bear"?
Helvetica:
No!
Well, she seems to fit in with all the other toddlers in town.
Hey, looked who dropped by. It's Grandma Apple! Wow, never thought I'd be saying that sentence.
Apple:
Um, I had four grandkids already from Rosario and Idina.
I know, but I've known you since you were a baby. It's just so strange to be calling you a grandma.
Helvetica:
Grandma!!!

I'll just let Apple get to know her new granddaughter better. I have to be on my way anyway.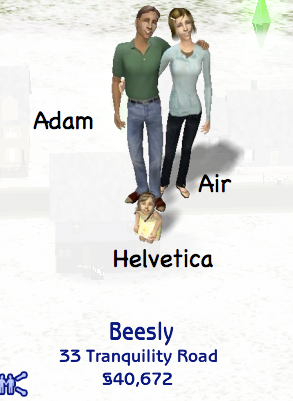 A Message From the Mysterious Voice: Well, this blog only took about a week and a half to write. Seriously, it's been open on my computer for that long. 2 houses to go! I can't believe Air is having kids already.