Last round, Monica and Toyota Beesly were enjoying life with their two daughters, Air and Dell. Dell grew from a toddler to a child and Air grew from a child to a teenager. Monica kept herself occupied during the day by maintaining the home while working night shifts as a criminal mastermind.
What are you looking at?
Monica:
The storm. It's raining so hard outside.
Toyota:
Perfect.
What's wrong, Toyota? You seem a bit out of sorts.
Oh, right. Both of your grandparents died this round. I guess that would make a person act a bit strangely.
Is a nice home-cooked breakfast helping?
Toyota:
Kind of.
Monica:
Don't worry, we'll put up the holiday stuff after you get home from work. That should help cheer you up.
Um...let's build seaport.
Oops...
Dell? Isn't Arianna a bit old for you to be making friends with?
Dell:
Maybe for now.
Ahh, it's Dell's birthday.
Happy birthday, dear Dell!
Very nice, and a halfway decent outfit! Any thoughts on an aspiration?
Dell:
I want lots of friends!
Another one? There sure are a lot of those this round.
Uh-oh...thankfully there's already a smoke alarm in here because of the fireplace.
Monica:
So...why are you in my house?
Arianna:
Um...why are you dressed like a dark fairy?
Still trying to kill time during the day?
Monica:
Yup. Working on fishing now.
I think you need to keep working.
Looks like we're getting a bird...not sure why.
So what's the birdy's name?
Dell:
Flappy. Dad's wanted a birdcage for like ever.
Flappy?
Dell:
The lady at the pet store said we shouldn't spend too much time thinking up a name.
Gee, I wonder why.
Time to make friends with your cousin?
Dell:
I'm a popularity sim now. I'm making friends with everyone.
Looks like you've got an easy lifetime want, though.
So I guess this is why they told them not to spend time picking the name...birds are the goldfish of the Sim world. I think this must be a new record.
What happened?
Monica:
I...I don't know!
Looks like we're moving onto bird number two...
So the new bird's name is...
Monica:
Chirpy!
Um, I don't think Chirpy needs to see this. Though I'm glad Toyota's in a better mood!
Uh-oh. Bird on the loose!
Trying to warm up?
Dell:
Yeah.
Just be careful. We don't need any more fires this week.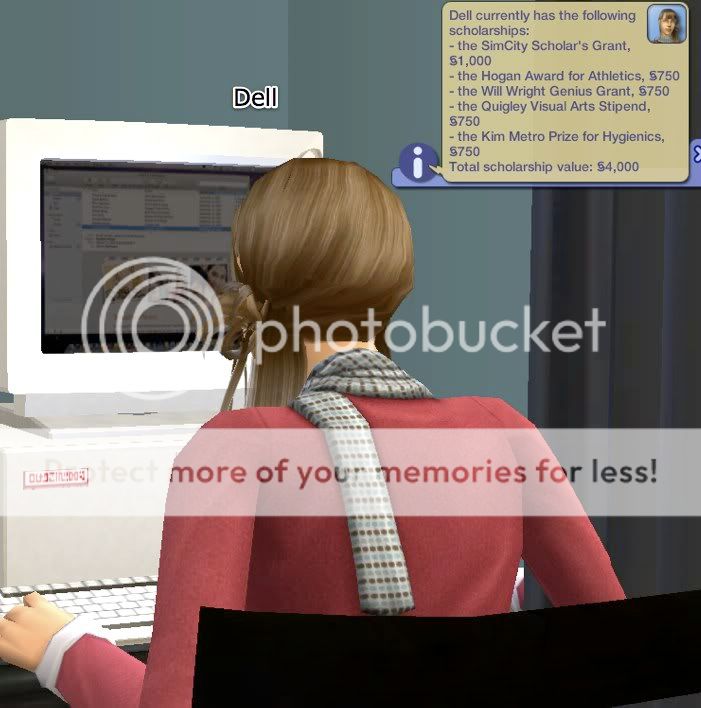 Nice going, Dell.
Dell:
Thanks for remembering to take the picture.
And I guess there's time for one more pillow fight before I head out. See you all next round!
A Message From the Mysterious Voice: So I'm not sure why Toyota was suddenly spinning up wants for a bird cage. Seriously, what is up with those birds? Flappy didn't even make it a whole day!