Next up on our list of new houses is a new name in town-the Warners.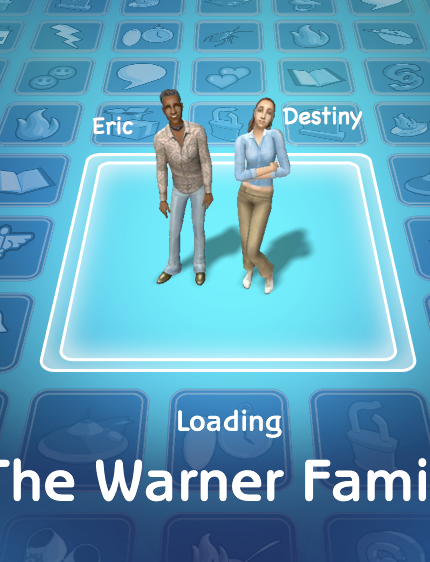 Eric Schrute is the oldest son of Jennifer and David Schrute. Destiny Warner came to Tranquility Bay as a townie, but this isn't the first time the mysterious voice has met Destiny.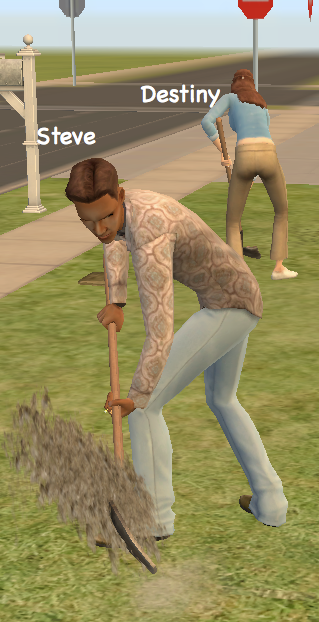 Hi, guys. Um...what are you doing?
Eric:
We're digging for treasure. We need some extra money for these first few days.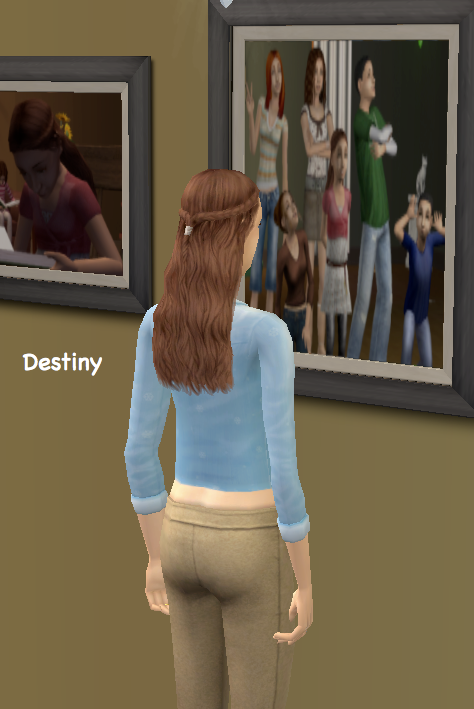 Where did these pictures come from?
Destiny:
I've been carrying them around since I got here.
Who are those people?
Destiny:
You know, it's funny but I don't really know. I know that girl in the middle is me...and my sister Abigail is there, but the other four...I don't know. I feel like I should, obviously we all knew each other, but I don't remember them.
You don't remember your own family?
Destiny:
Family? These people are my family?
Yeah, I can't believe you don't...
Eric:
Destiny! Can you come help fill in some of these holes?
You go ahead. We'll talk later.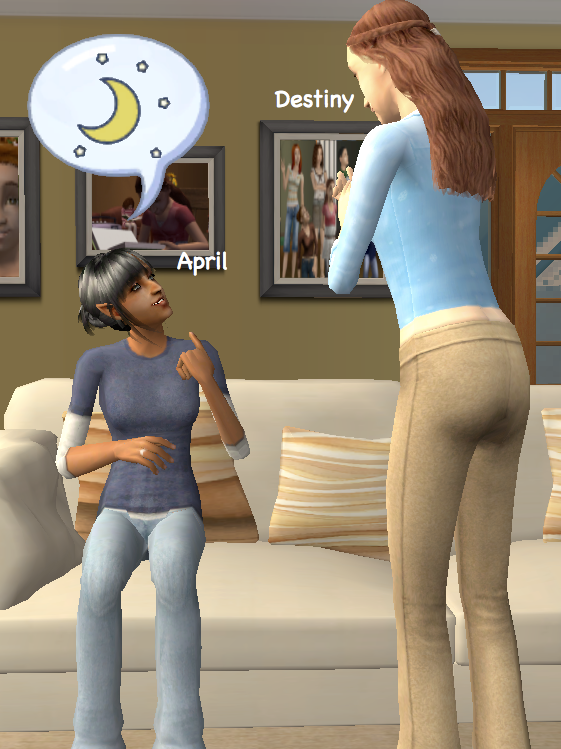 Oh, look. The welcome wagon's here.
April:
So last night, I had this dream...
Were you in a desert called Cyberland?
April:
...what
Never mind.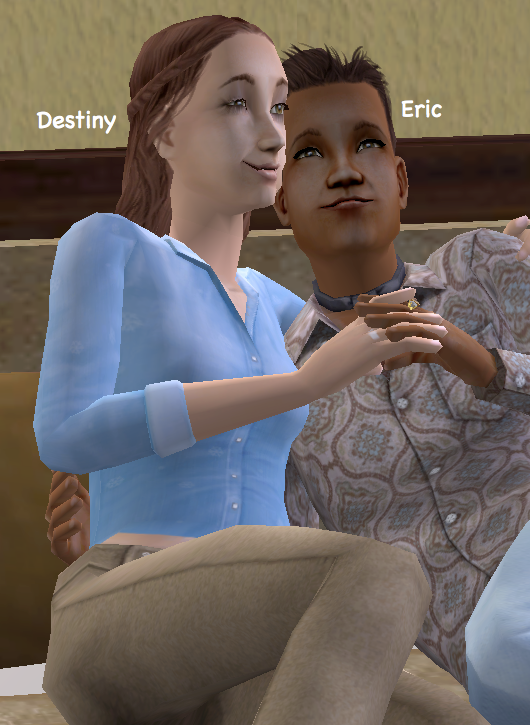 Aww, look at the happy...wait, you guys didn't get married today.
Destiny:
We know, we just ran out of time, what with all the digging and looking for jobs. Is that ok?
Yeah, I guess. It kind of throws of my groove, but whatever.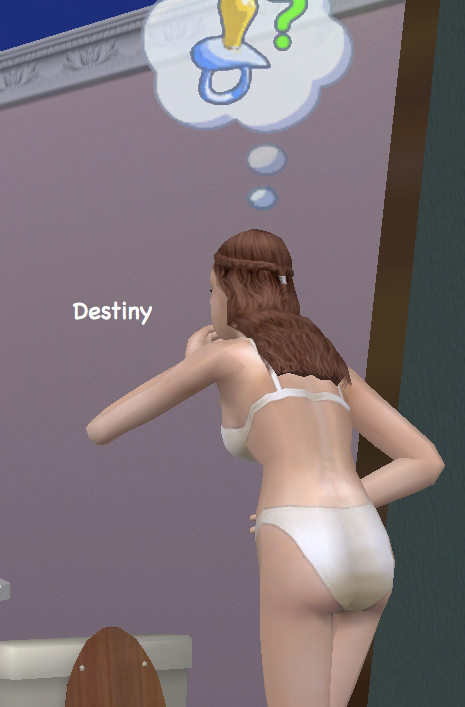 This, however, seems right on schedule.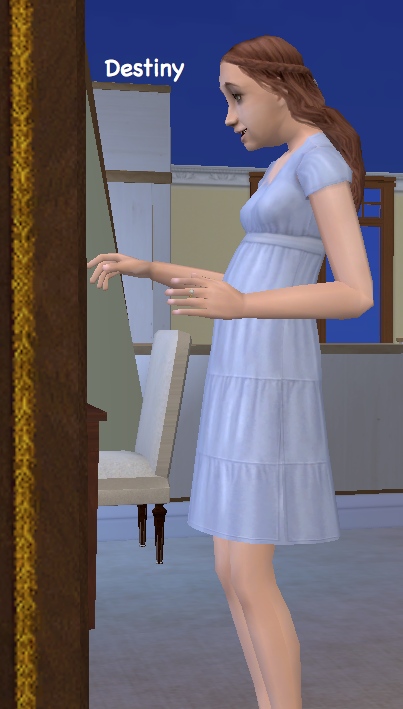 Destiny:
Oh, my...
I guess the first baby will come before the wedding, huh?
Destiny:
I guess so.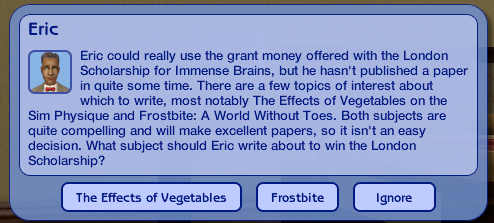 Hmm...let's go with frostbite.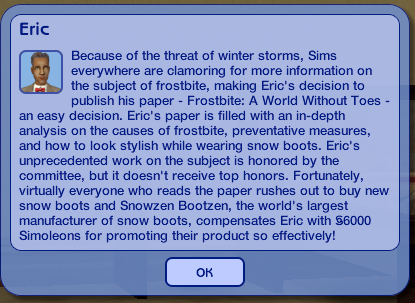 Whew! It was the right choice.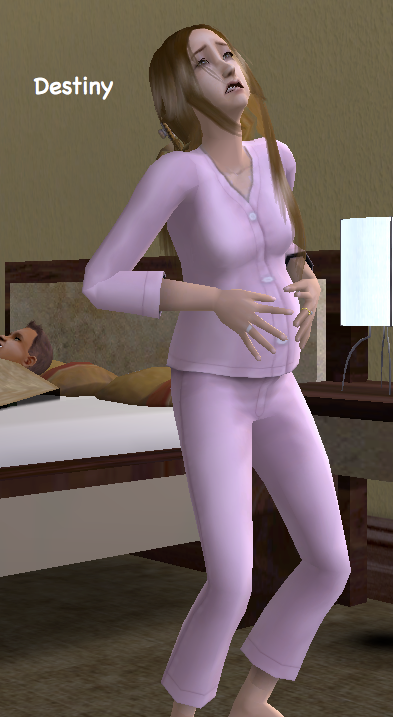 Destiny:
Mysterious voice! I think it's time!
Wow, that was fast.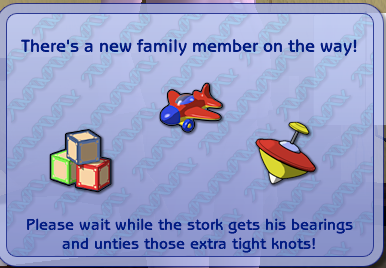 That was a pretty short twin spurt. I thought there would be a few more sets.
So?
Destiny:
It's a girl!
Great! What's her name?
Destiny:
Angelica.
Nice.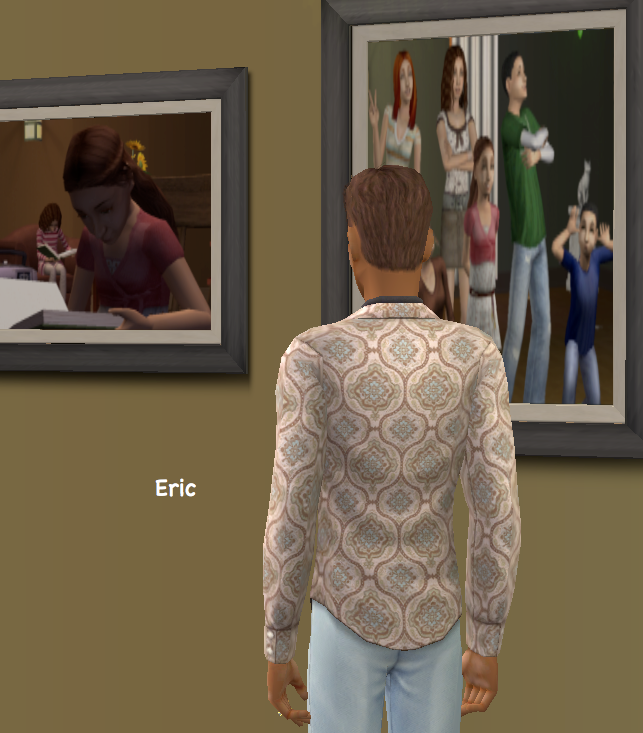 Has Destiny remembered anything else about who these people are?
Eric:
No. I've been trying to figure it out too. I don't know how she carried these pictures around without knowing who these people were.
I don't either. But with the new baby I don't think there's time to figure it out right now.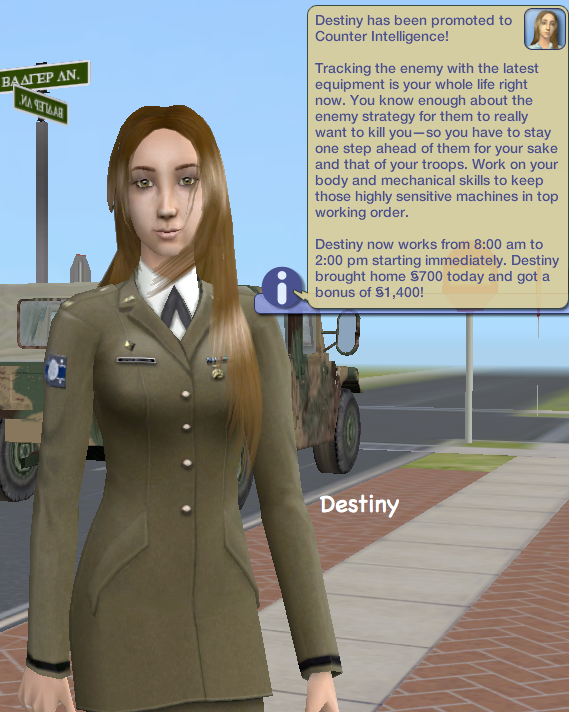 Nice job, Destiny.
Destiny:
Thanks.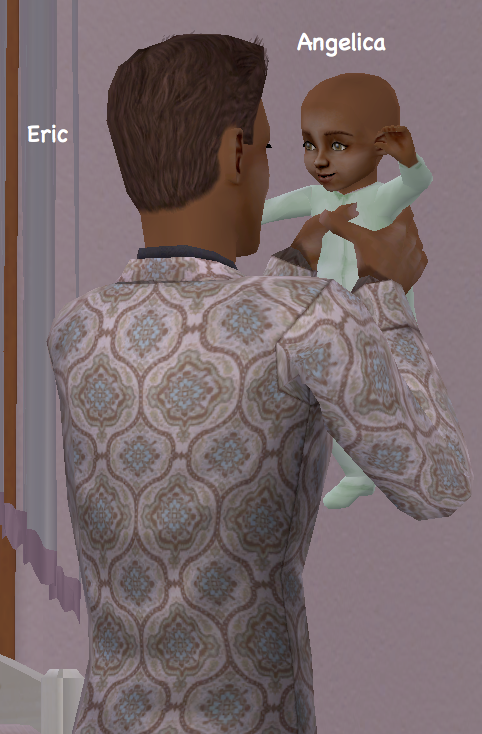 She certainly takes after your side of the family, huh?
Eric:
She sure does.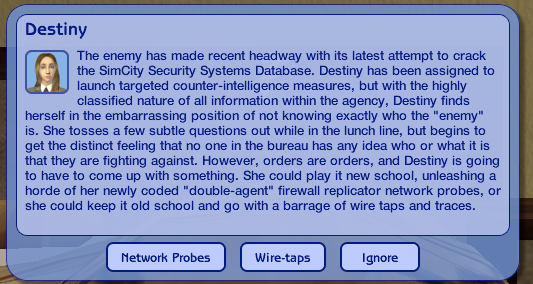 Ok, one for Destiny now...let's go with wire taps.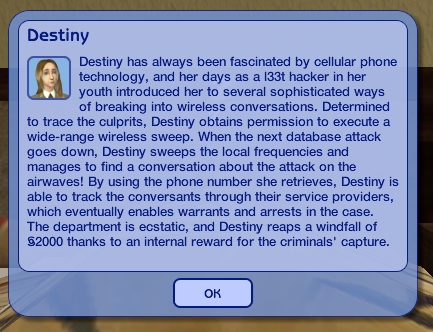 Whew. It's been a good week for chance cards.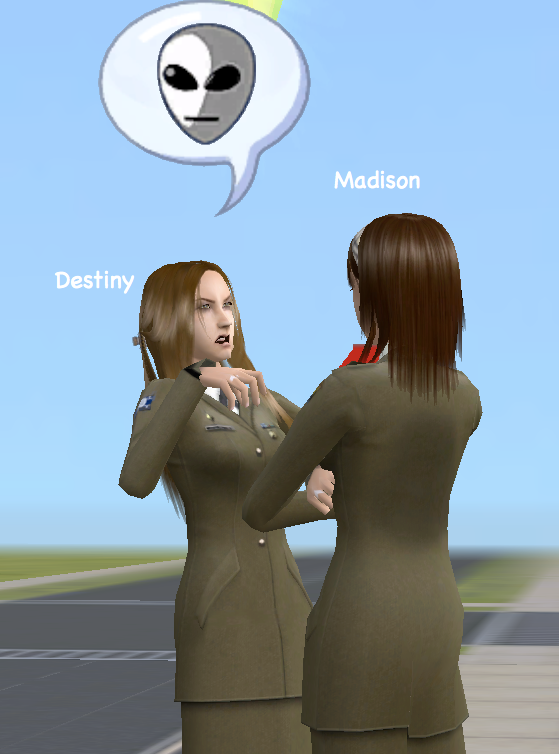 Madison:
How could you not remember your own family?
Destiny:
I don't know...maybe it was an alien?
It wasn't an alien, Destiny.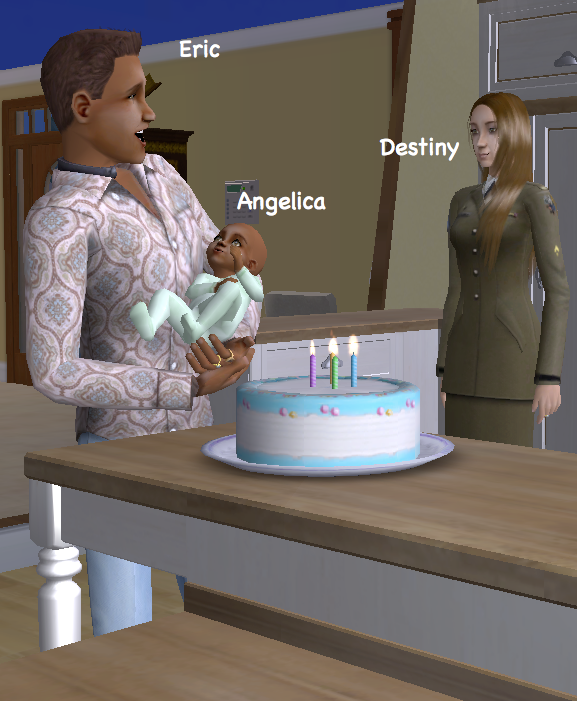 Happy birthday, dear Angelica...
She's a cutie, but a change of hairstyles is in order.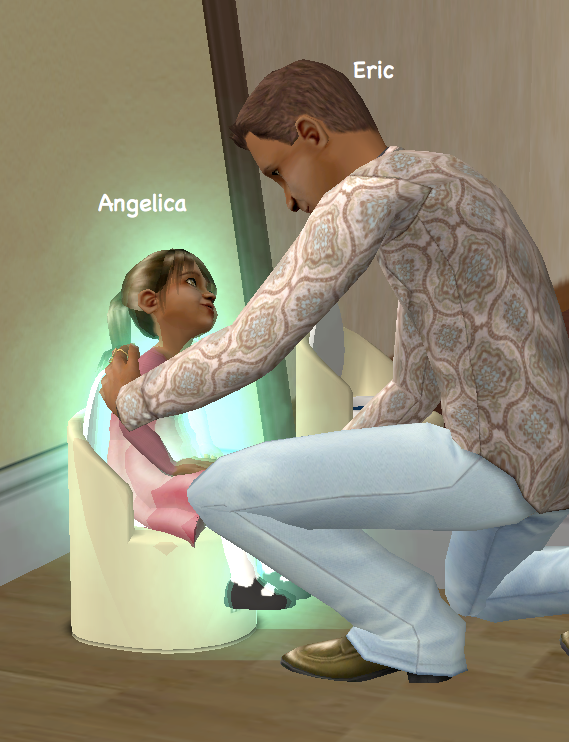 That's much better. And now the training can begin.
Eric:
Yup, and we're so excited...
Angelica:
Bottle!
Well, she's smart.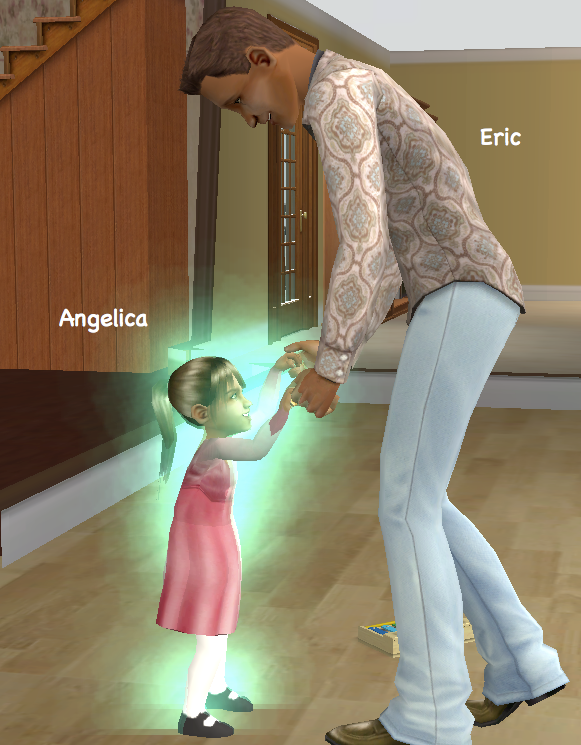 Any reason you're doing the bulk of the teaching?
Eric:
Well, Destiny's been working all weekend.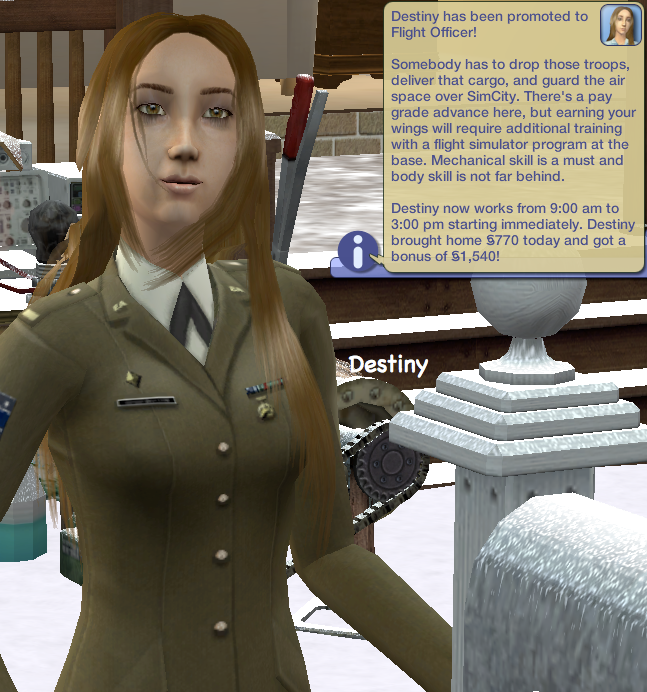 I see. Nice job, Destiny.
Destiny:
Thanks. I just wish I could have been home to help out more with Angelica.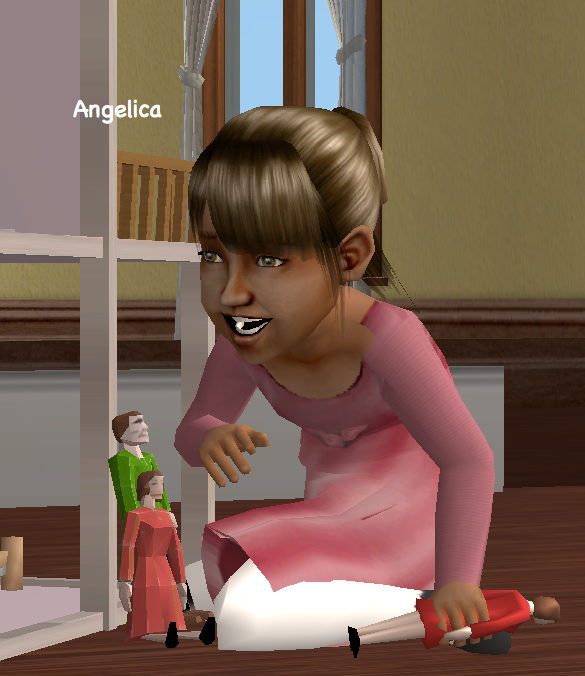 Well, this week's just about over. Can you say "goodbye", Angelica?
Angelica:
Ha ha ha...
Ok, let's try this again. Can you say "goodbye"?
Angelica:
.....
We'll work on it next week.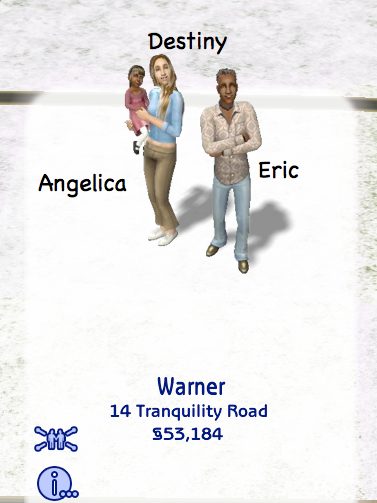 A Message From The Mysterious Voice: Destiny and Eric never actually did get married. I just forgot between the two jobs and the baby. I'll do it next week. Destiny is from my first custom neighborhood-before I started playing prosperity. When I moved her family over, only her and Abigail "survived". The rest were eaten.