Twas the night before Christmas
And all through the town
Little virtual people
Were all writing down
Letters to family,
Coworkers, and friends
To give them all updates
Before the year ends
They told of birthdays and weddings
Of the floods and the fires
They told of the terrible nannies they hired
The little ones too,
Crayons and pencils in hand
Wrote their own letters
To a certain bearded man
But once they had finished
And sealed the notes tight
They soon had a problem
That cold winter night
As they stood at the mailbox
Their skin turning blue
They found themselves wondering
Who to send the notes to
After all, every person they ever had met
Every grandma and grandpa
Every uncle and pet
They lived right here in town
They lived just down the road
They must already know
What the letters all told
"What will we do with these now?" they all cried
As they stood by the mailbox instead of going inside
"Is there nobody out there who would want to hear
Of what has happened to us this past year?"
Just then, the mysterious voice did appear
And collected each family's tale of their year
She also collected the little one's letters
Saying that she could reach Santa better.
She took all the letters and put them online
(It took her a great deal of Christmas Eve time)
So now please enjoy as you wait for the sleigh
Holiday greetings from Tranquility Bay!
Dear Friends,
Boy, has this been an eventful year around the Scott house! Our youngest son, Jack, is still living with us. His wife, Tangerine, finally achieved the highest business rank on her furniture store. It seems like everyone I bump into is carrying around a chair or a couch from Scott and Halpert Homewares! She's also working on breeding our two cats, Smokey and Tabitha. The second litter of kittens just grew up. I'm sure that soon they will go to a very nice family. The only problem is that little Topanga keeps getting attached to the kitties.
We also welcomed a new arrival to our house this year. Tangerine gave birth to a baby boy, Alan. Tangerine is very busy with her work but with myself and Lawrence in retirement there's no shortage of helping hands.
I hope the holidays find you well, wherever you are.
Much love,
Emily Scott


And here's little Topanga's letter to Santa:
Dear Santa,
I don't want a lot for Christmas this year. Mommy's doing ok with the store and Daddy has his job, and Grandma and Grandpa buy me everything I could ever want. The only thing I really want is a pet of my own that my mommy won't try and use to make money. We have two cats already but Smokey, the boy, isn't very nice and Tabitha, the girl, is always having kittens that my mommy sells to make money for her store. Also, I don't know if you can do this, but if you could bring us another bedroom that would be great. My baby brother is sleeping in the room where the cats are and I don't want him to get allergies.
Love, Topanga Scott



Next up we have the Beesly house-the first one, anyway.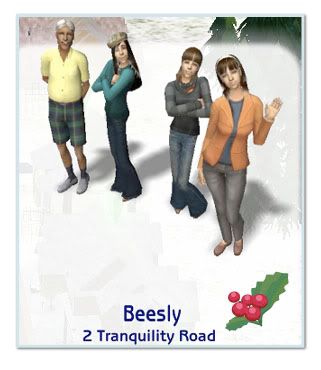 Dear Friends of the Beesly Family:
Life around here is as hectic as ever. The four oldest children have moved out of our house, but that just means that there are more grandchildren to spoil! Only our youngest two daughters, Phoebe and Chandler, are still at home with us. They both just entered high school-wish us luck!
Madison and I recently entered our elder years. We're considering retirement but think it's best to wait until all the kids are done with college and Chandler has moved back home to inherit the house. We also had a bit of sadness this year when Sparkle, our family dog, passed away. Madison adopted Sparkle as a puppy right after her grandfather's death before she went to college and she was with us ever since. It was very sad to loose her. The girls were very upset. We're entertaining the possibility of getting another dog, but right now it's much too soon.
Best wishes from all of us at the Beesly home,
Michael Beesly

Next up-the Halperts:
Dear Family and Friends
Happy Holidays! After a very eventful year things are finally starting to settle down around here. I'm sure you noticed a couple of new lovely ladies in our picture this year. Mango, our youngest son, moved home from college and brought his lovely girlfriend Robin with him. At first, we weren't sure if marriage was going to be on the horizon at all for these two but when Robin became pregnant, Mango convinced her to take the plunge. The ceremony was beautiful. We had a quick ceremony in the living room-very quaint and home-y. Robin soon gave birth to a beautiful baby girl, my little granddaughter Strawberry. I'm hoping that they will have more, but I know that's up to Mango and Robin.
No doubt you've also noticed all of our new furry friends. Tangerine's still running herself a kitten factory over at her house, and we offered to take a couple off of her hands. Flick and Maggie were a handful at first, but they've settled down a bit. They get along great with our Tiger, too. There's a lot of meowing going on around here these days!
Have a wonderful holiday season and a great new year!
Love,
Jessica Halpert


Of course, Strawberry was too young to write a letter to Santa, although she did provide a very nice drawing of a pony. Next up we have the Schrute house: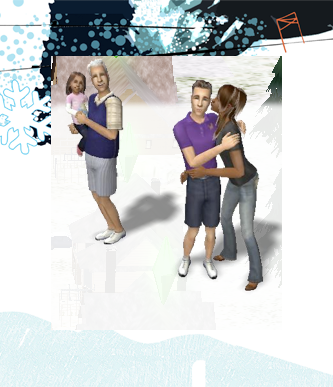 Dear Friends.
I wish I could write this letter under happier circumstances, but unfortunately things are not as cheerful as usual around the Schrute house this year. As many of you have heard, Jennifer passed away from old age not too long ago. It was inevitable, but we all thought she had more time left. She did go quite peacefully, though, and that is a small consolation.
Giselle has had a rough year as well. She moved home from college with her fiancee, Ross. But with Giselle's lifetime dream of having 50 first dates, Ross was far from the only man in her life. Her other dates were very chaste, but that didn't matter to Ross. The only reason the two of them stayed together was Jasmine, their daughter. That little girl is really holding this family together right now. She's the only one who doesn't seem to be affected by Jennifer's death or her parent's marital troubles-of course, she's only a toddler so how could she be?
Even after all of our troubles this year we have high hopes for the new year.
Love,
David Schrute


Dear Friends,
Seasons greetings to you all! Things are happening around here! After years of having combinations of toddlers, kids, and teens we finally have three teenagers in the house. We're surviving as best we can. Mom's still working as Captain Hero despite her age. We all thought she was going to retire-after all , there has to be at least 5 other Captain Heros in this town, including her own son-in-law. But she insists on staying with her job.
The twins recently joined their older brother Bronx in high school. Queens is still little miss popularity-I feel as if I'm running a youth community center sometimes with all the friends she brings home. She recently found a steady boyfriend down the street, so at least the constant dating is winding down now. Harlem is doing wonderfully in school, as is Bronx. I'm sure they will all do great in college.
Before the twins' birthday I had a bit of an incident with our family telescope. I don't remember much about the aliens, but I don't appear to be any worse for wear. I'm still plugging away at earning my $100,000. I'm hoping to get there this year!
Best Wishes,
Olivia Levinson


Here's a letter from the Martins: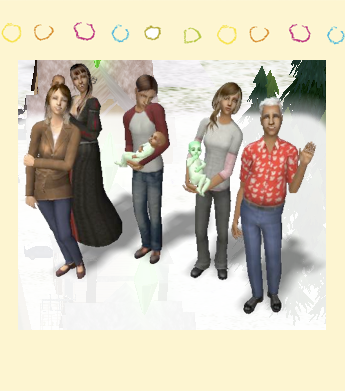 Hello, everyone!
As you can see we've been very busy this year! We had a bit of a scare at the beginning of the year with our youngest, Clarinet. Lightning struck the telescope she was looking through and we almost lost her to the resulting fire. Luckily, her older sister Mandolin was there to save our heiress's life. Now Clarinet has returned from college with her new husband, England. Since they've been back they've had three children between them.
Little Drum was born first. I never thought I'd live to see the day when my mother became a great-grandma, but it happened. Not soon after, England had a bad experience with our family telescope that he still refuses to talk about. Somehow, though, he came back pregnant. We didn't really understand it either but soon after little Harmonica came into our family. She's a little different from the rest, but she's adorable and we love her anyway. While England was pregnant with Harmonica, Clarinet also became pregnant again and gave birth to another daughter, Violin. I think the happy couple is done for right now-they certainly have their hands full!
Mom is still keeping herself busy with "Uncle Darren". I've tried to convince him to move off of the island and into our house, but he insists that he doesn't want to be a burden. I can't say I blame him for not wanting to move in with all this craziness!
Best wishes for the new year,
Love,
Kimberly Ethan, Emma, Clarinet, England, Drum, Harmonica, and Violin Martin



Now a Letter from the Second Beesly House:
Dear Friends,
First of all, I'd like to thank you all for your condolences after Pamela's death. We all thought that she had more time left. Either way, she lived a good life and left a very strong legacy behind with her sisters, her children, her grandchildren, etc. I can only hope that our trip to the Far East was enough to satisfy her curiosity regarding her mother.
July has been very bothered by Pamela's death, but her husband Roger has been helping her cope. Little November hasn't been bothered as much. July's trying to get our cats to breed with each other, but those animals have minds of their own and haven't been cooperating.
Things have been going very well at work, but I think retirement is coming soon. The uniform of an ecological guru is getting to be a bit revealing for me at this age.
Happy Holidays!
Rhys Beesly

Here's the Caligula's Letter: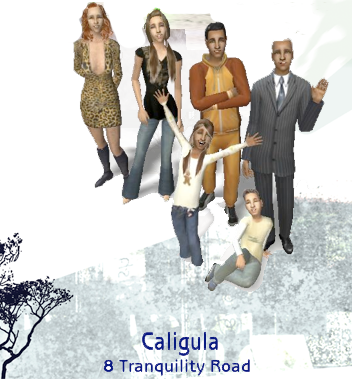 Dear Friends,
I hope this letter finds you well. We've had a very good year in the Caligula house. Matthew and I are delighted to be heads of a 3 generation household. The kids are growing like weeds. Little Madrid is in school already, and her brother Toronto is approaching his teen years. Both of them are doing very well in school.
Paris already reached the top of her career and achieved her lifetime want. We're so proud of our little girl. Kentucky is doing the best he can to help provide for his family, although his natural inclinations might be a bit different from what we would want. He is the children's father, however, and we're putting up with him as best we can. He does seem to genuinely love his kids so I guess that is better than nothing.
Currently neither Matthew or myself has retired, but that may be happening in the coming year. You never know.
Have a great holiday season!
Love,
Kalliope Caligula



And here's two more letters to Santa:


Dear Santa,
I have tried really, really hard to be good this year. I did all my homework, and I didn't even tease my little sister that much. Which was really hard because sometimes she can be a real pain. Anyway, this year for Christmas I would like a guitar or a drum kit. I know I can't play them until I grow up but I grow up really soon! Even a piano would be ok, I guess. I'd also like a soccer net or a basketball hoop, but Dad says they don't make those.
I'll leave lots of cookies for you on Christmas Eve! And this year we won't start the kitchen on fire, I promise!
Thanks!
Toronto Caligula

Dear Santa,
I want a new dollhouse for Christmas. I also wanted a violin, but Mom said we can't get those. Can you bring me one?
Love,
Madrid Caligula

The Beesly Family (House 3)
Dear friends and family,
I'm excited to say that for the first time I'm writing this holiday letter as a married woman! Joshua finally gave in and let us get married this year. Yes, we're both elders already but it's better late than never! The twins went off to college and Jenna is now back home with her husband Destin. They've already given us two beautiful granddaughters, Mindy and Angela. They are adorable, but they keep us on the run. As you can tell, Jenna is due to give us another grandchild soon. I'm not sure how Joshua feels about having all these little feet running around again, but if he is bothered by it he doesn't let it show.
The only sad part of the year was when my sister Pamela passed away. This was the sister who helped raise us when my mother disappeared. It was very difficult to lose her. Still, I knew it had to happen eventually.
From all of us here at the Beesly house, have a very happy holiday season!
Love,
Ashley and Joshua


The Beesly Family (House 4)
Season's Greetings!
My, how time flies! It seems like just yesterday that Kentucky and Arizona were little. Now Arizona is moved home from college and has a little boy of her own, Connecticut. I think we're going to start calling him C.T. for short. We're going all out for his first Christmas. I don't think I've ever seen this house so decorated. You'd have no trouble finding our house on the street!
Arizona's wedding was beautiful. They had a simple ceremony at the local chapel. After Kentucky chose such an unconventional path in life I was worried I would never get to throw a wedding! Arizona is the complete opposite of her brother. Kentucky doesn't come around much anymore. I think he senses that we don't exactly approve of the way he's living his life.
Corey and I entered our elder years earlier in the year. We're still at work but I don't know for how much longer. We both have big pensions coming our way and it might be nice to relax a little bit.
Thankfully, nobody got sick this year. I've heard about the flu running rampant in other towns, but luckily we've been able to keep it at bay.
Have a great holiday season and good luck in the new year!
Love,
April Beesly


Moving right along, we get to the Vega house.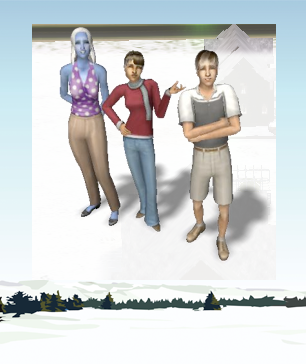 Dear Friends and Family,
As the holiday season draws near, we'd like to update you all on what has gone on in our lives this past year. Life has been quiet since Toyota and Kia left home. Lexus will be leaving for college soon enough, but for now she's reveling in being the only child.
We've had our share of ups and downs this year. We've lost track of the fires, and our bathrooms have both been flooded for the past few months. One day we'll get around to fixing the bathroom. By far the biggest event of the year was our wedding. Yes, we've had three kids already but London finally bit the bullet and let us take the plunge. We hosted a large family reunion for the event, which also happened to fall on Lexus's birthday. We will remind ourselves to never again invite that many family members over at one time. I'm still finding plastic red cups from the juice keg. The party kind of fizzled out when a tree got struck by lighting in the front yard. Miraculously the tree was unharmed after the rain put the fire out.
Well, that's pretty much it for us this year. Here's hoping next year's just as great!
Sincerely,
Aracely Vega


And now a message from the Halperts (house 2)
Season's greetings to all our friends and family!
Where to begin with this year? So much has gone on. The twins are out on their own now. While it does free up some much needed space we miss having them at home. Since the twins moved out we finally split Adam and Tracie up into separate bedrooms about a day before Adam became a teen. We had told ourselves that we were going to move them before they became teenagers and we met our goal-barely.
Adam's become a very lovely young man. He's not around the house very much these days, but I suppose that's typical of teenage boys. Not that I would know-I only lived with girls growing up-but Shawn tells me that it's perfectly normal. I just hope he's making good choices. Though I haven't seen a cop car pull up to my house yet so I guess that's a good thing.
Our little Tracie has grown up a lot this year. She's now in school and doing wonderfully. She does have a very strange fixation with our new cat, Jamie. The two of them sit in the living room in front of the TV and I swear they are watching it together. It's the cutest thing, really. If the camera flash didn't scare Jamie away I'd take a picture, but of course the mysterious voice has been doing that for us.
Probably the best thing about Adam being a teenager is that we no longer have to hire a nanny. We kicked her out the day he grew up. How do those women stay in business? We also have hired a gardener to keep up with the flowers at the house. We just can't seem to remember to water the darn things!
That about sums up this year! Best wishes everyone!
Love,
Apple Halpert

And of course we have Tracie's letter to Santa:
Dear Santa,
Could you please bring us a bigger TV for me and Jamie to watch? And maybe some DVDs of shows about cats? Or shows without loud noises-Jamie doesn't like those. Also, could you please bring me really warm clothes so I can stay outside in the snow longer?
Thanks
Tracie Halpert

Dear Friends,
Brace yourselves, everyone. We've got three teenagers living in this house! This year all three of our remaining kids (Germany, Holland, and Canada) all had that major growth spurt! I can't believe my babies are so big. It seems like just yesterday that I was digging England out of the snowbank.
Speaking of which, I'm still searching for ways we could take legal action against the nanny. Steve thinks it's a waste of time and that I should just get over it but how can I get over another woman almost having my children taken away? The poor boy was blue! Well, I guess the poor boy is actually a man now. Both of the twins have lives of their own. I've sent them our mailing list so I'm sure you'll be getting letters from them.
Once the younger twins were in school I started working every day again. My office was very glad to have me back on a regular schedule but my heart just isn't in business anymore. Once I become an elder it won't be long until I retire.
Out of all the kids, Holland's been keeping us the most busy. The boy chose the romance aspiration. While I'm not thrilled about it I know that we have to let them follow their own paths in life. Still, we're trying to keep tabs on him while he's still under our roof to make sure he doesn't break too many hearts.
Here's to a great new year!
Love,
Kiwi Halpert


Man, there's a lot of these letters. Let's see...this one's from the Warners.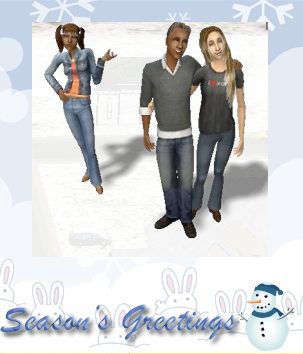 Dear Friends of the Warners,
Happy holidays! We don't want to bore you with all of the ins and outs of our year. Not much has really gone on around the old homestead. Angelica grew up and moved out, Dot started high school, and Eric and I are still plugging away at his dream of having 50 dream dates. We won't go into too much detail about how we've been accomplishing that.
In other news, our TV has been broken for about six months. With Dot being older now she doesn't need to watch it as often anyway, but it is alarming that the thing is still spitting out smoke. We've been too busy dating to fix it. Dot's been working on her mechanical skill to try and get it fixed, but I still say the TV is much too dangerous for her.
I finally got promoted to general earlier this year. Thankfully, war doesn't seem to exist in this country, wherever that may be, and the army doesn't really do all that much. Still, my career reward has come in very handy. Body skill can be so hard to earn.
We don't really talk to Angelica that much anymore. Apparently she has a new job as a chef and a new roommate who can help her out, so I suppose that's good. I never thought I would raise a child to choose the romance aspiration, but I have to say she has surprised me by not popping out a baby yet.
We hope the new year brings you nothing but happiness!
Love,
Destiny Warner

Seriously? There's more of these things? Alright, next up is the 5th installment of the Beesly family saga. These people should be a book in and of themselves...
Dear Friends,
We have many "happy holidays" around this house this time of year! I'm sorry for the horrible pun, but Pao couldn't let that one go by. We thought things would get quieter after Easter moved out, but that didn't quite end up being the case. With two growing boys and an energetic baby girl, our lives didn't seem to quiet down at all. Those boys are now teenagers and that has been a pleasure. Valentine's in school now-she spends most of her time in her bedroom. Can't say I blame her with her brothers. She won't let me put her hair up for me to check, but I think she got my pointed ears.
In other news, we've been playing musical bedrooms this year. We considered moving Valentine from the nursery next to our bedroom downstairs to an empty room upstairs now that Easter's moved out, but decided against it. Who wants to carry all that furniture upstairs anyway? Valentine will be just fine in that room for now. Besides, I think she likes being separated from the boys. The boys did share a room for awhile, but we soon realized that with two spare bedrooms upstairs it was silly to cram them into one room. I'm glad they had the experience, though. We're also considering putting in a study, since the kids seem to have nowhere else to do their homework besides the front lawn. Can someone remind me why we buy them desks?
I hope all of you have a great holiday season and a great new year!
Love,
May Beesly


Now onto part 6 of the Beesly saga...
Dear Family and Friends,
How is everyone doing at this wonderful time of year? I think we are the only house in town without a child in it! Sparrow and Mexico just moved back in from college. We're in the midst of planning their wedding right now. We can't believe that we're already waiting on grandchildren, but we decided that the twins were going to be it for us. After all, why try to cram more people into a house when we already had two great potential heiresses, right?
Let's see...we put in a pool out back this year. The girls were doing so well in school, we just had to reward them. Unfortunately, one of us brought home a cold from work and we've been passing it around ever since. We keep getting better, but then one of us gets the other ones sick again. I don't think we've had a day where everyone in this house is healthy since the girls were in elementary school. We also redid the spare room downstairs as the girls' study. It is so adorable. I'm sure we'll have to convert it again into another bedroom once Sparrow starts having her own kids. We also built a playroom upstairs, although I don't know how much longer that's going to last either. We just hated having all that unused space in our house.
Damion is doing fabulously at work. For never having attended college, he's giving me a run for my money with the promotions. We also got a little furry friend this year. Izzi the puppy has been keeping us on our toes. We're trying to house train her, but we realize it isn't easy when she can't go down the porch steps.
That about does it for us this year. Time seems to be going by so fast! I hope everyone has a great new year!
Love,
June Beesly


Now onto another Warner house: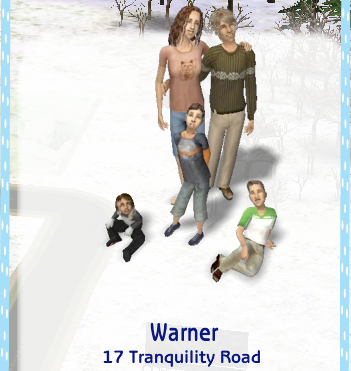 Dear friends and family,
I hope this letter finds you well. In fact, I hope this letter finds you at all. I still haven't been able to solve the mystery of how Destiny and I ended up here. I did manage to figure out that we have 4 more siblings out there somewhere. I don't know if they're still alive, but I'm continuing to search for them. I spend most of my free time on the computer doing internet searches. Granted, I don't have very much free time these days.
Brooke is out on her own now but we still have 3 kids left at home. River and Ocean are in school for most of the day, but when they're at home they are a storm waiting to happen. I think they are intent on destroying our house. And they ask if we can get a dog! Yeah, right. Stream is still at home with me during the day. She's the sweetest one of the bunch. I know I'm spoiling her but it's just so hard not to. She is adorable. Don't worry, though, because the boys get spoiled plenty by the father. Especially Ocean. Rome waited so long for a baby with his skin. He tends to look the other way at the boys more...rambunctious moments. We're going to have to have a talk about that in the near future.
Things are pretty much broken all the time in our house. I keep hoping for a robbery so some of the stuff will get taken and we won't have to fix it. Honestly, though, there's nothing in our house that's worth stealing anyway. We had a lot of fires this year, but nobody was hurt. Thankfully the fire department here responds super fast. They must have trucks always rolling!
Best wishes for the new year!
Love,
Abigail Warner


And another letter to Santa from this house:


Dear Santa,
I know it doesn't look like we've been that good this year but we really tried! Dad says we've been ok, but just ok. We don't really know what that means. But could you please bring us a trampoline and a swing set? And maybe a video game system? Oh, and bring a doll or something for Stream too?
Thanks!
River and Ocean Warner



Ok, who's next...ahh, the Mendoza house.
Dear friends,
As you can tell, things are still happening in twos around our house. Our younger twins were born earlier this year. It amazes us how fast they've grown-now their walking, talking, little whirlwinds of demolition. It's all we can do to keep up with the damage, let alone prevent it. Still, I'm considering getting pregnant again. I really want to try for a baby with my skin tone. Joey seems to think that 4 is plenty, though, and I can't say I blame him. We'll see what happens in the new year.
The older girls still don't have very many friends. They cling to each other at school and at home. We're not exactly sure why. Joey is especially confused by it, since he was the oldest of 6 kids and had no trouble socializing at all. Of the two, Glinda seems to be more willing to at least talk to other kids but she will drop anything to play with Nessarose. We're considering asking the school to put them in separate classes for next year, but we don't want to do it if it will upset them more.
Our house has been pretty much constantly flooded (having two toddlers in the house with access to the bathrooms makes that happen). We've become accustomed to wading through puddles to go to the kitchen. Eventually we will get around to mopping it up. We're going to have to think good and hard about that third pregnancy.
Happy new year to you all!
Best wishes,
Trinity Mendoza


And we have another letter to Santa:
Dear Santa,
We would like you to bring us a puppy for Christmas. We're writing one letter because we're twins and we do everything together. We promise to share the puppy with Fiyero and Sarima too. Fiyero also wants a fire truck and Sarima wants a teddy bear, but they're too young to write yet.
Thanks!
Nessa and Glinda Mendoza



Next on our list: another Beesly house. What a surprise.
Dear family and friends:
We're going to try and be honest with our holiday letter this year. Life with three little boys is just as you'd expect-pure terror. We're trying to get pregnant again to try for our little girl-I hope it happens this time because I don't know if I could handle 4 boys at once. I don't know how my parents handled having 6 kids-I will be stopping at 4 either way.
We've been doing renovations not out of want but out of necessity. They're not so much renovations as they are repairs. I swear, there is nothing in this house that these kids cannot break. Orion is finally starting to calm down now, but we've still got the twin terrors behind him who I swear have a sense for what is the most breakable in the house. Our nanny almost quit on us (not that she did that great of a job). We're trying to hype up the Santa thing with hopes of encouraging them to listen to us.
Orion is in school now and surprisingly he's been getting great reports from his teachers. I need to spend an afternoon with that woman and see how she does it.
I would give a report of how things are going at our jobs, but honestly I don't even know. We haven't discussed work for quite some time. They're still paying us, so I guess work is going ok.
Here's hoping for some peace in the new year!
Love,
Rachel Beesly


And here I have Orion's letter to Santa (this should be good)
Dear Santa,
It wasn't my fault, I promise! The little kids did everything! Mommy just didn't see it. I've been really good but nobody believes me. Can you please bring me some presents and I'll try to stop the little kids from being so bad? Please?
Thanks,
Orion Beesly


We're getting close to the end of the stack...I think. Next up we have part 8 of the Beesly saga.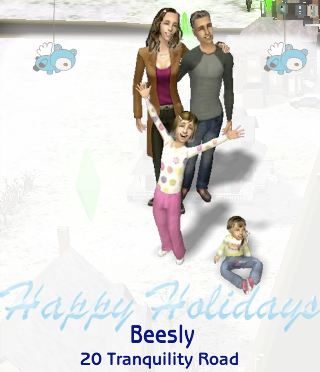 Dear family and friends,
Life couldn't be better around the Beesly house this holiday season! We had our second daughter, little Dell, this year and she's been a wonderful addition to our family. We're considering having a third child but our family just seems so perfect at 4.
Air is doing great in school. She has a lot of new friends who come home with her on the bus almost every day. I've gotten used to making extra portions of snacks each day.
We're getting estimates right now about putting a pool out back. It really is the only thing that would make our house perfect. Thankfully neither Air or Dell are especially rambunctious and most of our stuff has remained intact. We were even able to teach Dell to stay out of the bathroom, for the most part.
Work is going very well for both myself and Toyota as well. We try to spend as much time at home as possible but we also love our careers.
Not much else to report from around here! I hope you all have a great holiday!
Love,
Monica Beesly


Well the Beesly's holiday meal will sure be interesting, won't it? Now let's move on to the Levinsons:
Dear family and friends:
We've had a lot of ups and downs this year. Of course, we had our second child, little Oregano, and he has just been a bundle of joy.
Unfortunately, Cinnimon hasn't taken to being a big brother. He's been acting out a lot lately, especially at school. He actually almost burned down the school auditorium during the Thanksgiving play. He claimed that he didn't know he wasn't supposed to really light the candles before putting them on the table surrounded by first graders. We think otherwise. Luckily kids around these parts seem to be used to fires.
Our house was also robbed earlier in the year. Thankfully the robber only took a few area rugs. We've talked to some of our neighbors and it seems like that is all they ever take. I'm sure there's a black market rug store somewhere just outside town. Trumpet has been doing his best at work, as have I. It's becoming increasingly difficult to live down Cinnimon's misadventures, though. It's not fun being known as the mom of "fire boy".
Here's hoping for a better year next year.
Love,
Brooklyn Levinson


Looks like we get another begging for forgiveness letter for Santa, too.
Dear Santa,
It's me, Cinnimon. I'm really sorry I set fire to the auditorium, and that I tried to mail Oregano away, and that I broke the bathtub playing pirates. I really didn't mean to...ok, I did mean to mail Oregano away but he was really loud and I couldn't sleep. But I didn't mean to do that other stuff. Do you think you could still bring me some presents? I promise I'll be really good next year!
Thanks!
Cinnimon Levinson


Dear Family and Friends,
First of all we must apologize for our card. There was some mix-up with the printer and they put Brooklyn's name instead of mine. Even as adults we're still getting mixed up.
Anyway, we don't want to bore you with a long letter. We just wanted to wish everyone a happy holiday and a happy new year. We've been busy decorating for Dawn's first holiday-Rainn sure is in love with that little girl.
Have a great holiday!
Manhattan Levinson


Dear Family and Friends,
We've had a pretty busy year. The kids keep growing, and it seems like every day they have a new interest we need to become experts in . Violet is still our little gardener, which is good because it looks like she's going to be our heiress. We've decided that we're not going to try for any more kids. Two is plenty for us!
Thanks for being so great to us during the past year! We couldn't have gotten through it without you guys.
Love,
Kia, John, Crimson, and Violet


And of course the Vega twins both sent letters to the man in red:


Dear Santa:
Here is what I want for Christmas:
A new toy car
A puppy
A video game system
A bunch of games for it
No clothes, please
Thanks!
Crimson Vega


Dear Santa:
I want a bunch of new gardening stuff for Christmas-stuff that's my size. Mommy and Daddy's stuff is too big and it's hard to use. I'd also like a kitty. I know Crimson is asking for a puppy and a puppy would be ok but I really want a kitty.
Thanks,
Violet Vega


Dear Friends:
What a year it's been. After graduating from college, we've moved into our own little farmhouse. Not that we have much room for a farm behind it, but that doesn't matter. Our wedding was beautiful. We held it in the chapel down the road with just family. Soon after I became pregnant, and not too long ago we had our beautiful twin boys, Edward and Emmett. They are both amazing but as different as can be. I'm sure they will keep us on our toes as they grow up. I'm due for our second birth soon. I'm not sure if this will be our last. I would love to have four or five but our house is rather small. I think it might be time for some renovations, but of course we'll have to wait for the boys to be a bit older. Construction equipment with three little ones in the house is not a situation I'd like to have happen.
Happy Holidays!
Love,
Mandolin Martin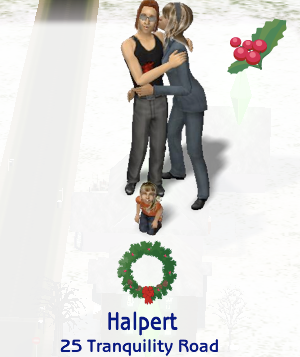 Our First Year Recap:
Graduated College
Moved In to Our New House
Got Our First Jobs
Got Married
Idina Got Pregnant
Zoe!!!
We're scared to see what year 2 brings!
Happy Holidays!
Love
Idina and Dakota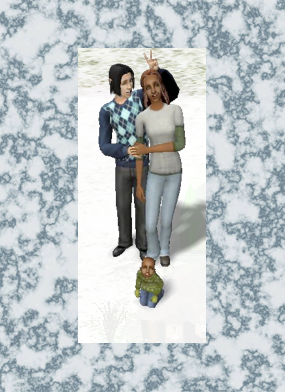 Dear Family and Friends:
Sorry we don't have time to write a longer letter. But with Topaz up and walking we spend most of our time chasing him around. We just wanted to wish everyone a happy holiday season and a great new year. Our hopes for the new year are pretty simple-to have Topaze start school and to have a little girl to complete our growing family.
Have a great holiday!
Love,
Rosario, Bronx, and Topaz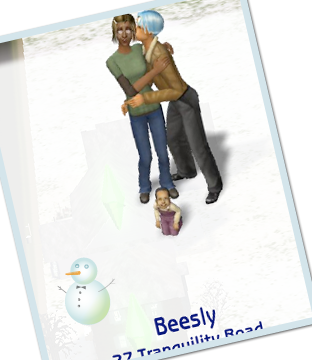 Dear Friends,
I wish I could say that my first year of living on my own had been a great experience, but unfortunately we had some unforseen complications this year. It started off well with our wedding and moving into our new home, but after I became pregnant with Zyrtec I just knew something was off. The birth didn't go well, to say the least. In the end we were both ok, but the doctor's still don't know how to explain what went wrong. I'm hesitant to have another child to try for a girl. We have to have some more tests done before that happens.
Zyrtec is an amazing little boy, though. He looks just like his daddy.
Have a great new year!
Love,
Easter Beesly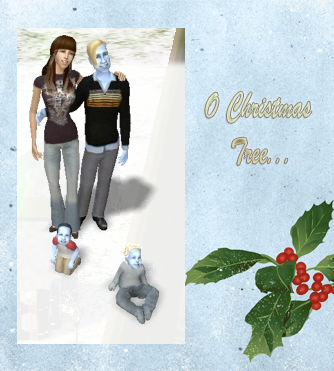 Dear Friends,
I hope everyone got the joke of our card. Pine and Oak are growing like weeds. I'm itching to have another baby to try for a girl, but Bryan is iffy because of the complications that arose when the twins were born. I'm sure that the same thing won't happen again, but he is not as certain. I can't blame him for being worried.
Keeping up with two growing boys is hard work. I sympathize with my mom dealing with my brothers now. Bryan's family has been amazing at helping out, but with that many boys in the same family they must be used to it.
I hope everyone has a great holiday! Here's to a great new year!
Love,
Brooke Warner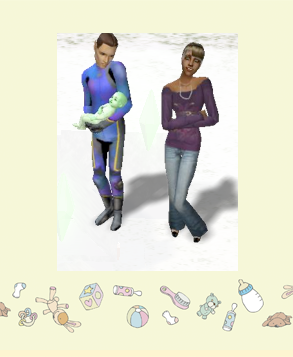 Dear Family and Friends,
I'm not only writing to wish everyone a happy holiday, I'm also writing to announce the birth of a new member to our little impromtu family. Mountain Holiday came into this world not too long ago. He came as quite a shock, but I knew from the moment I saw him that he would be an amazing son. Angelica has taken to being a mother quite well, though she does seem reluctant to hold the new baby. She claims it's because of her job as a chef, that she doesn't want to transmit any foodborn illnesses to him. I can't blame her for being careful-who knows how his body chemistry differs from ours?
My older kids are all still wandering around town. I hope to see more of them in the new year.
Happy holidays!
Love,
Danton Holiday