Last round was full of love for the Martin family.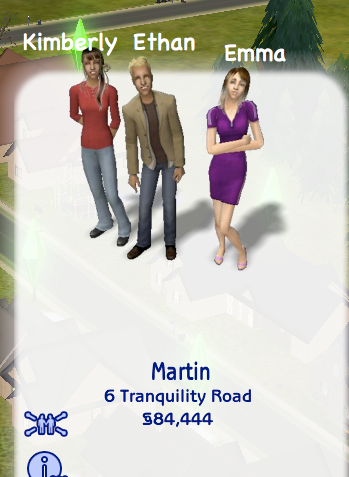 With the household now financially stable, both Kimberly and her son Joshua began to follow their dreams-and their dreams involved dating up a storm. Joshua found a semi-steady love in Ashley Beesly, and prepared himself to go to college with her. Meanwhile, Kimberly dated just about any man she could find. In the middle of the week, the youngest of the boys, Ethan, grew up and chose a life of knowledge. Satisfied that she had saved two out of her three grandsons, Helen soon passed away. Her widower Charles, however, didn't let his grief get the best of him. He called up the matchmaker and went on a blind date, allowing him to die in platinum aspiration soon after.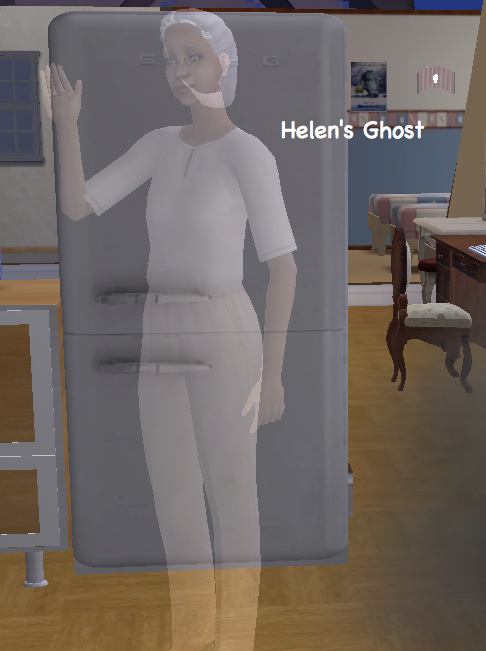 Hey, what's Helen's ghost doing out?
Kimberly:
Oh, they just set up a new cemetery on the other side of town, so we're moving both the graves down there. I don't want to be dealing with the ghosts all the time.
Nice family sentiment there, Kimberly.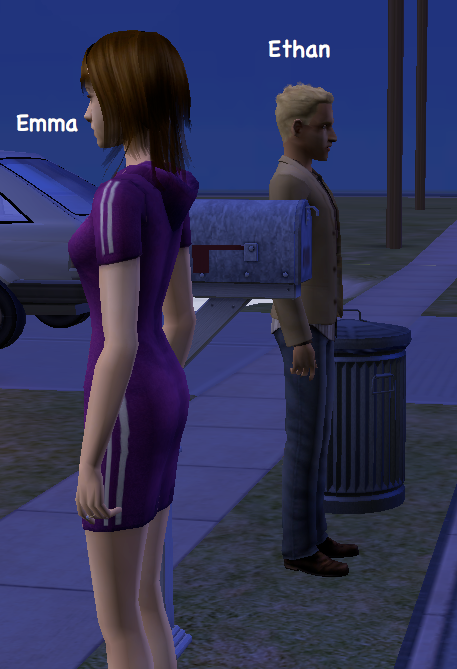 Speaking of family, here's Ethan moved back in with his fiancee Emma. How's it going, guys?
Ethan:
Ok.
Who are you calling, Emma?
Emma:
I'm making the arrangements for our wedding. We're having it at the new chapel they just built.
Oh, well let's get down there then.
Uh, I don't know who this guy is, but I'm guessing that you probably don't want him at your wedding.
Ok, can everyone please sit down so we can get started?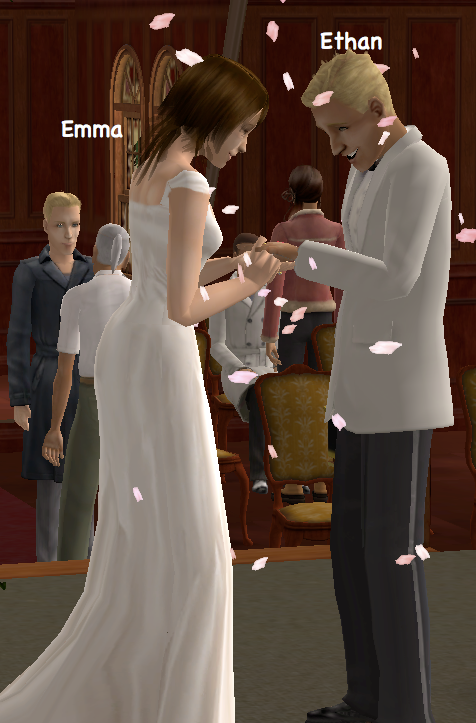 Or not...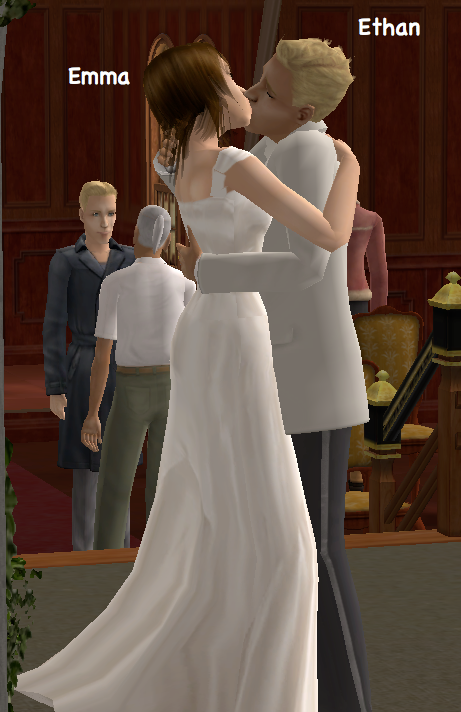 I'm really liking these community lot weddings.
Matthew:
Mom, you have to come and see London and Rome.
Are you asking her on vacation or inviting her to come see your sons?
Matthew:
To come see my sons, of course.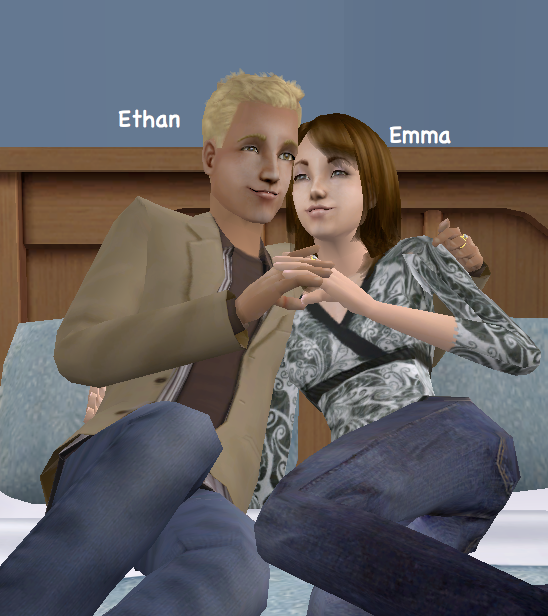 A bit worn out from all the wedding fun?
Ethan:
A bit.
I'll just be leaving you two alone now.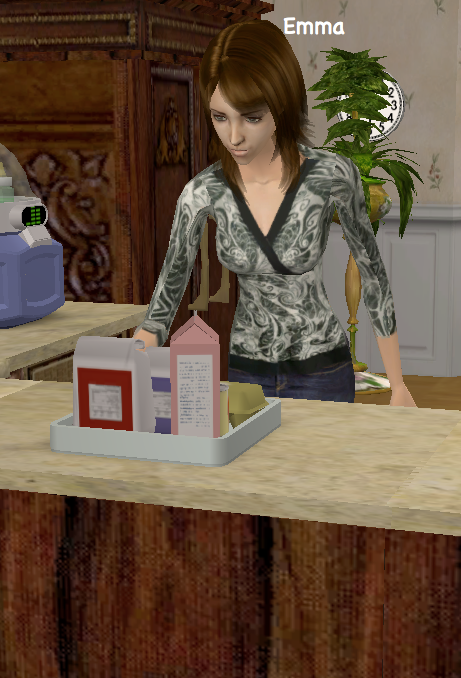 Good morning, Emma!
Emma:
Morning, mysterious voice. I'm so hungry this morning. I don't know why.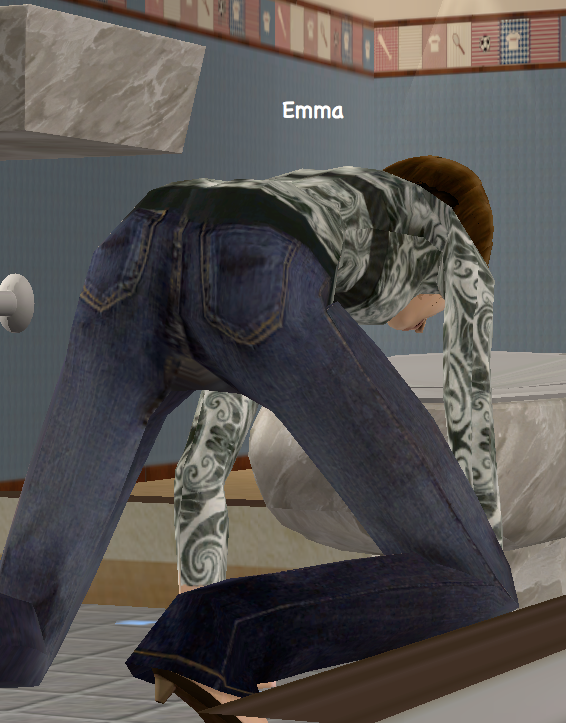 I think I know...
Kimberly:
Hey, could you come by here again?
Who are you calling?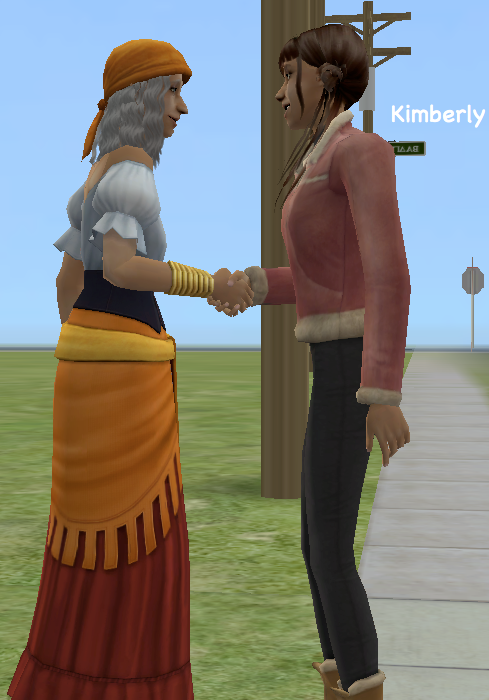 You know, I think your family is single handedly keeping this woman in business.
Wait...didn't you already date him?
Kimberly:
No...I don't think so.
I could have sworn you did...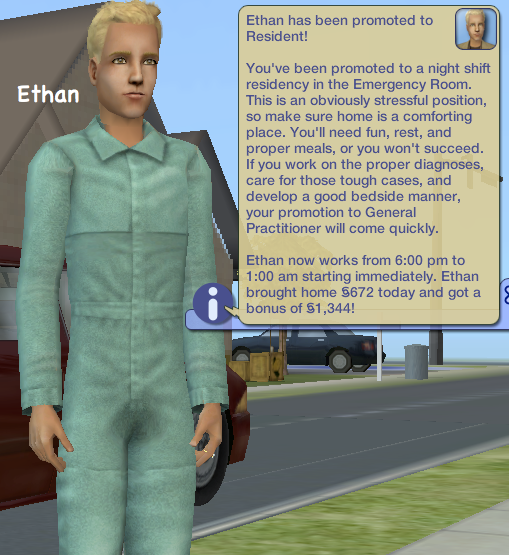 Nice job, Ethan.
Ethan:
Thanks. But this is just to hold us over until my real calling comes up.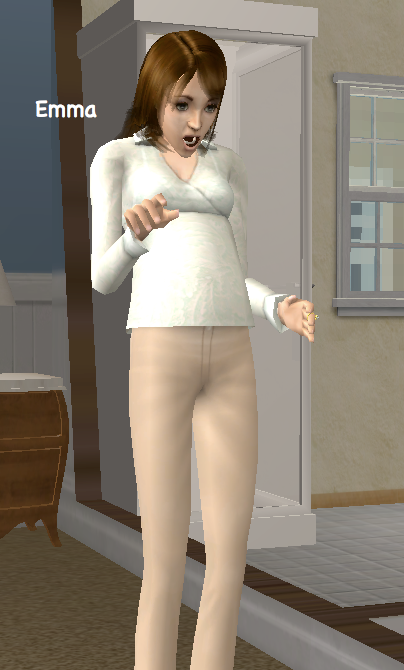 Emma:
I'm pregnant!
No, really?
Now I know that already happened last week.
Kimberly:
Um...no it didn't.
Another visit from the gypsy?
Kimberly:
Sure! I've still got a long way to go before I reach my dream.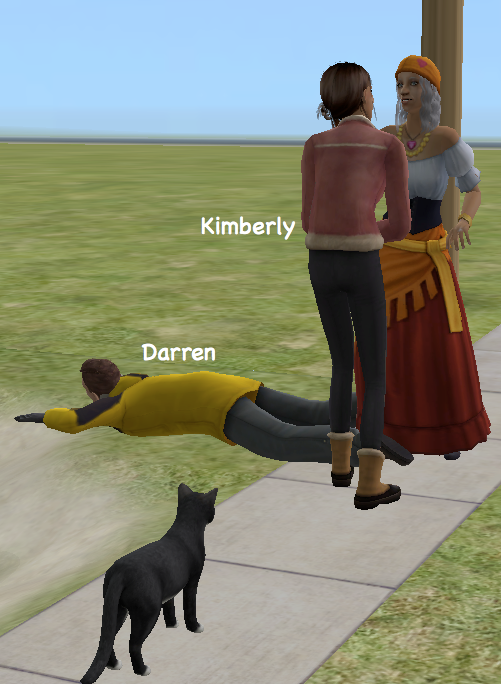 Who is that?
Kimberly:
I think his name is Darren something...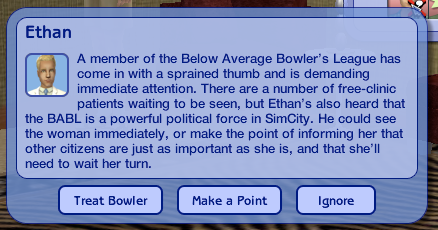 The below average bowler league? Don't give her any special treatment, Ethan.
See?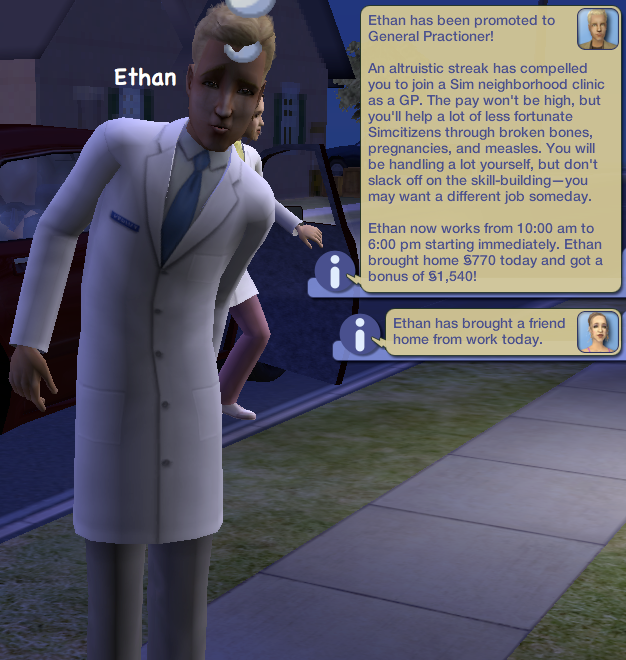 Ethan:
I still wish I was in my true career path.
It still hasn't come up?
Ethan:
Nope.
Looks like things are going good for Kimberly and Darren...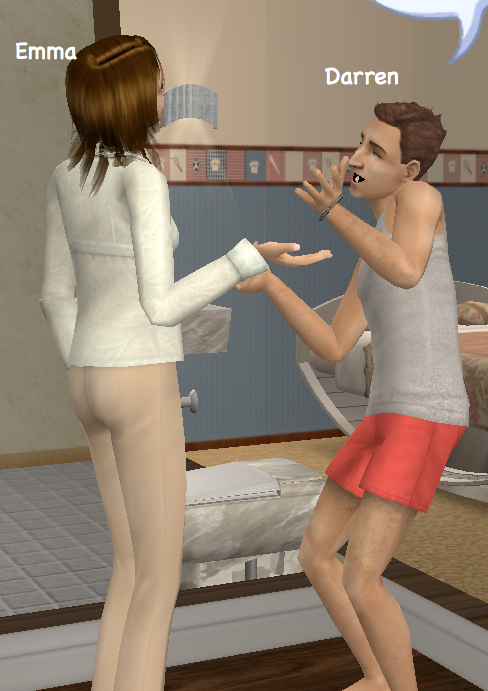 Um, Darren? Shouldn't you have left at 2am?
Emma:
Apparently not. And with Kimberly at work it's my job to entertain him now.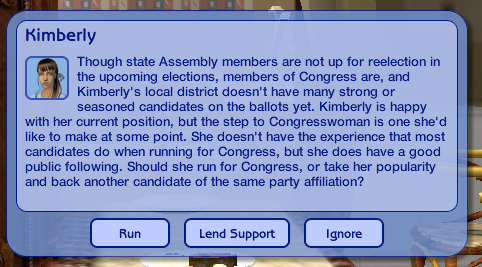 Hmm...let's lend support.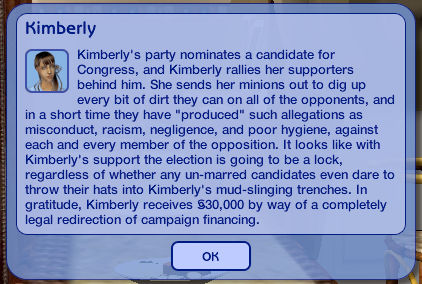 That should help out.
I guess your true calling hasn't come up yet.
Ethan:
Nope. It's kind of frustrating, really.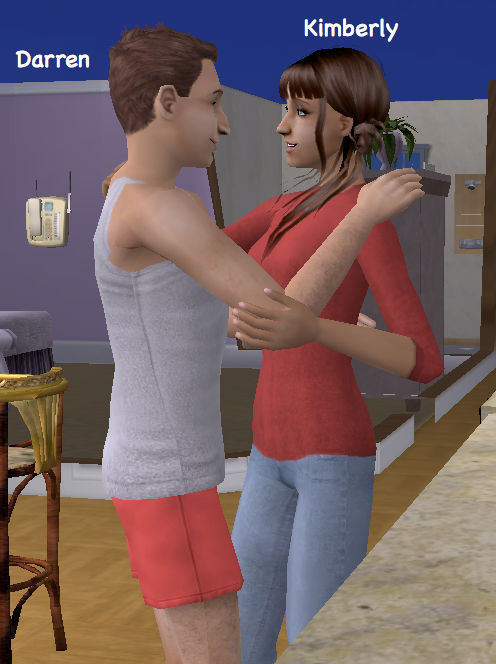 Darren came back?
Kimberly:
He never left.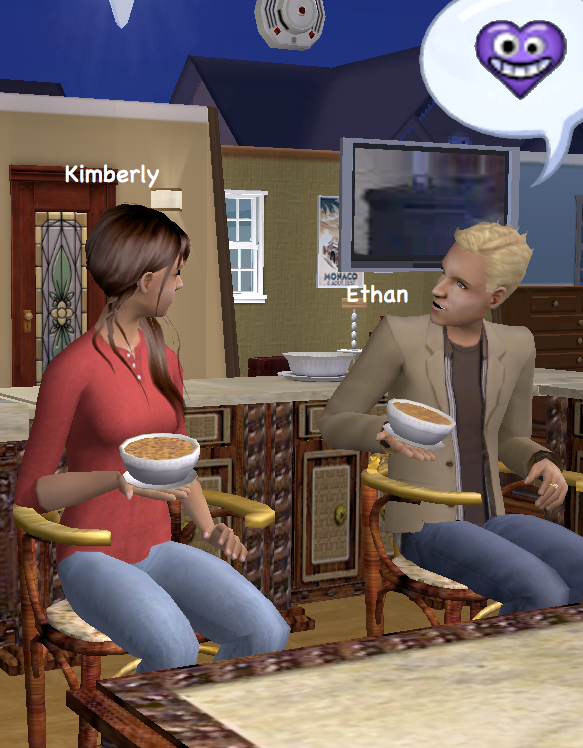 Ethan:
Mom, you can't keep having these random guys here. Emma and I are going to be raising our child in this house.
You tell her, Ethan!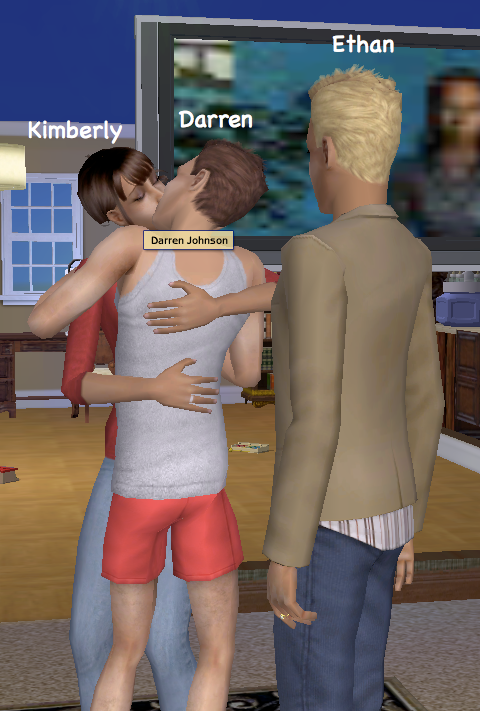 Although it doesn't seem to help much...
Emma:
Something's happening!
Oh, boy! It's baby time!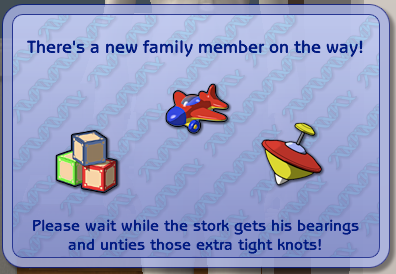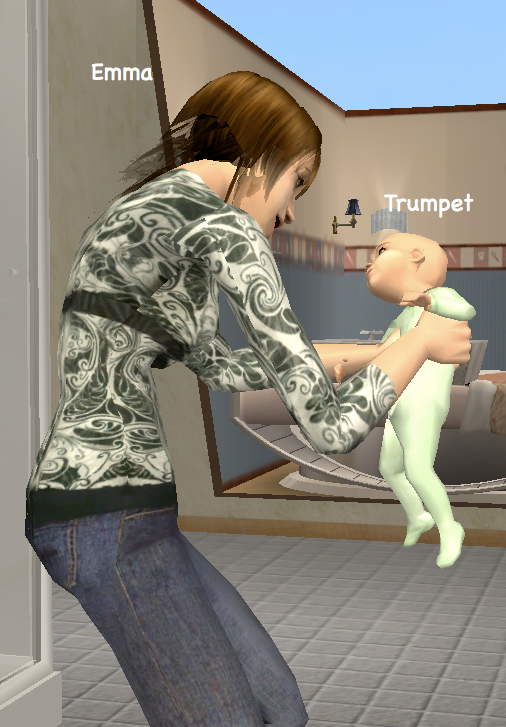 So?
Emma:
Meet our new son, Trumpet!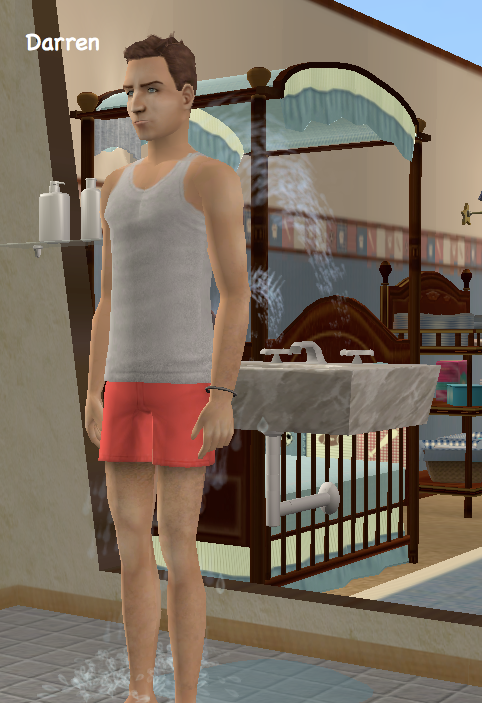 And of course Darren ruins the moment by breaking the sink. Why are you still here?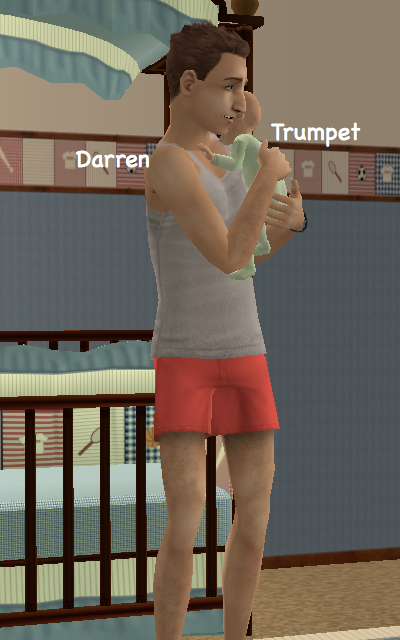 At least he seems to be good with the baby.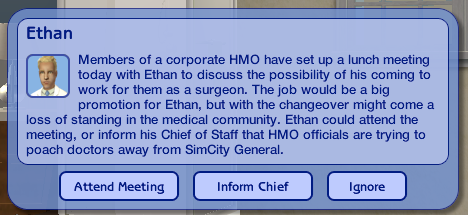 Let's inform the chief...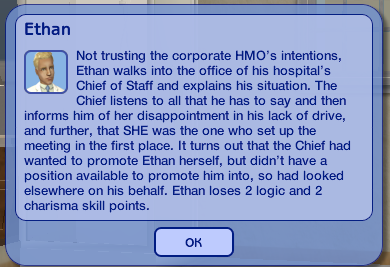 Oops.
Ok, now I know that happened last week too.
Kimberly:
I keep telling you , no it didn't.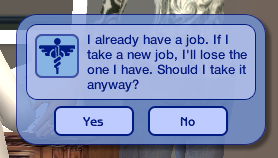 So I guess your calling finally came up?
Ethan:
Yup!
So I have to ask...why the name Trumpet?
Emma:
We wanted to give our baby an original name.
It's original, all right.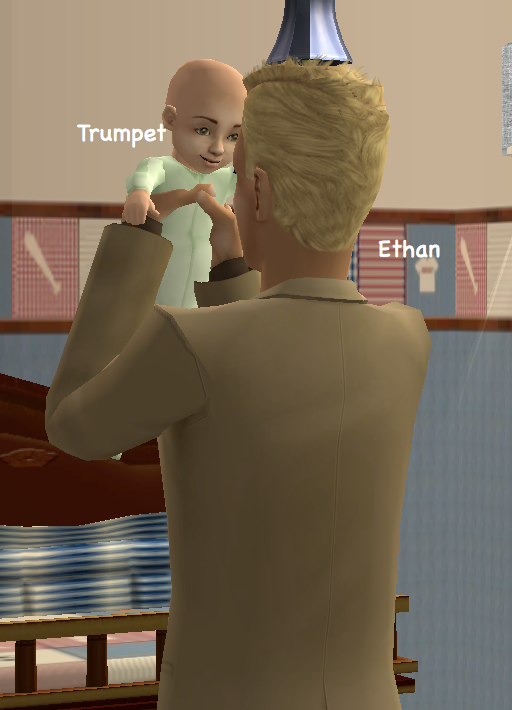 Ethan:
Who's a cute baby? Who's a cute baby?
No work today?
Ethan:
My new job's at night.
Oh...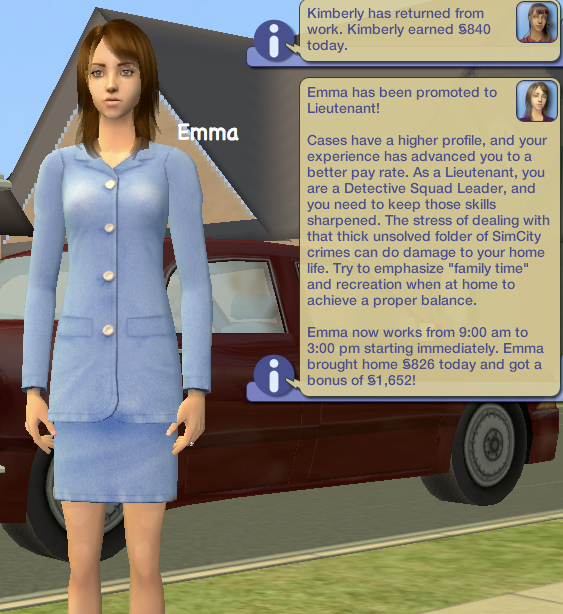 Way to go, Emma!
Emma:
Thanks!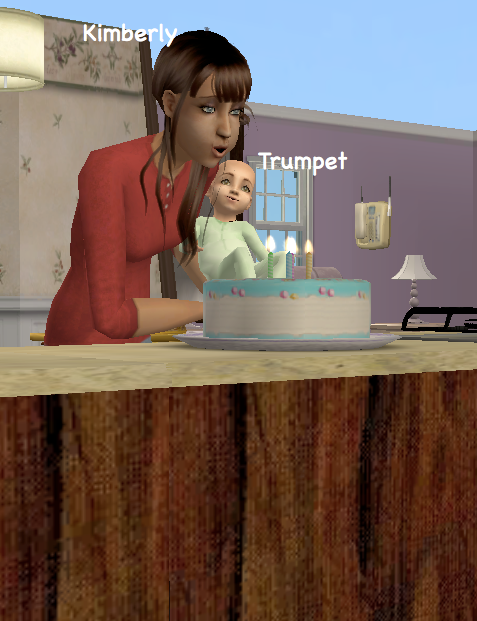 What's this? Kimberly's actually helping with the birthday?
Kimberly:
Sure, why not?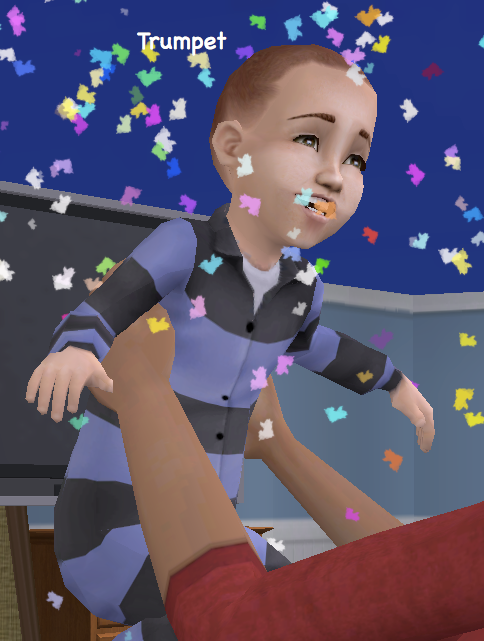 What a cutie...what I can see through the confetti anyway.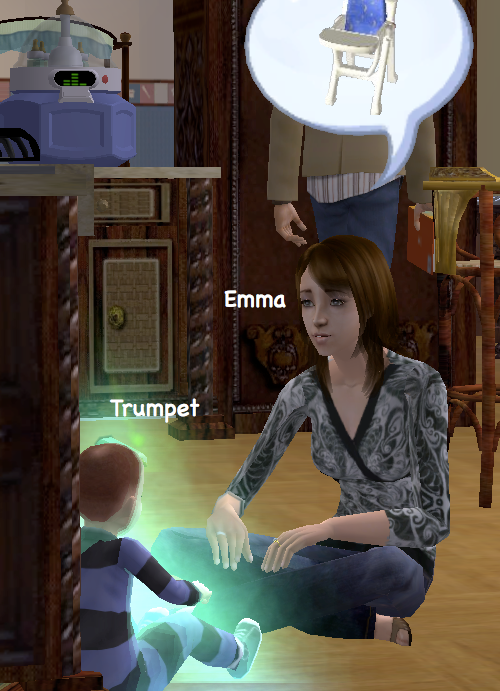 Emma:
Say "chair"
Trumpet:
No!
Keep trying, Emma.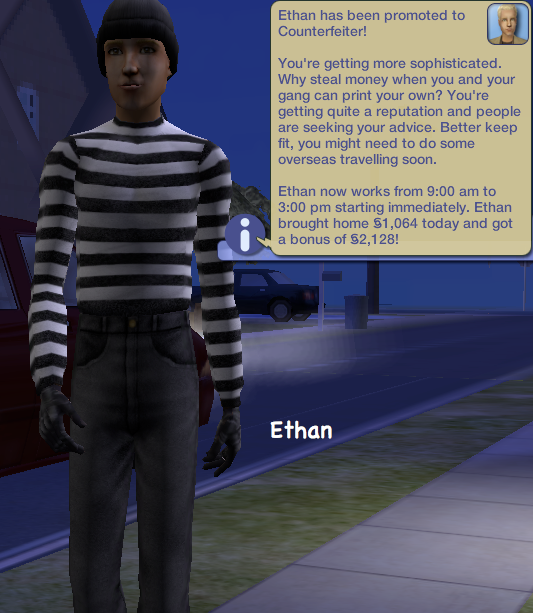 Whoa...I think there's a...wait a minute...Ethan, is that you?
Ethan:
Yup! It's my lifelong dream to become a criminal mastermind.
Um...ok.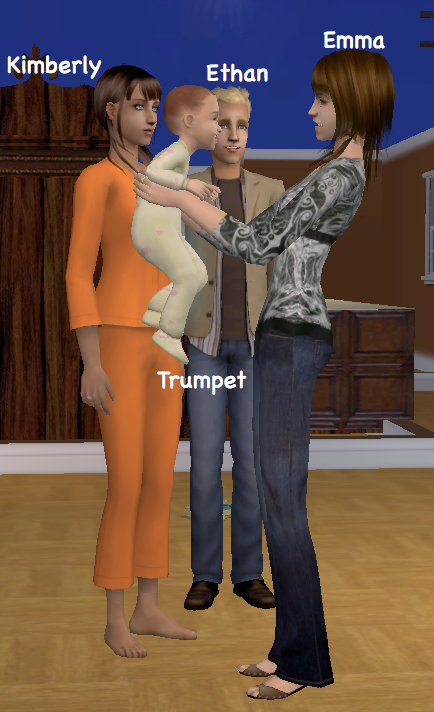 What a nice family you've got there.
Ethan:
Come on, Trumpet. Come to Daddy...
I'm glad you changed out of your work clothes to do this.
Uh-oh...could there be another baby on the way?
You know, if I didn't know better I'd say that little guy is melting your heart a bit.
Kimberly:
What are you talking about? I've always been a nice woman.
Sure, whatever you say.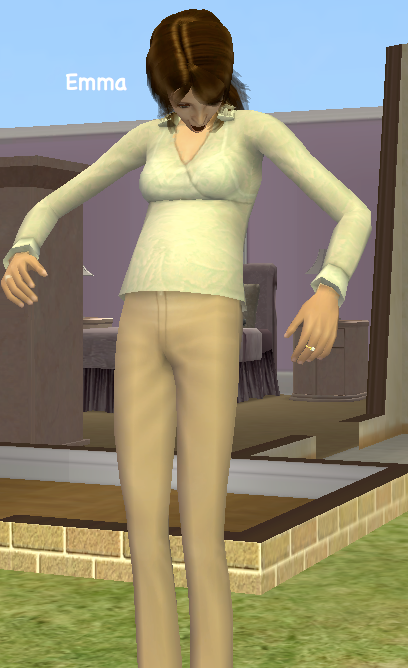 Looks like baby number 2 is coming...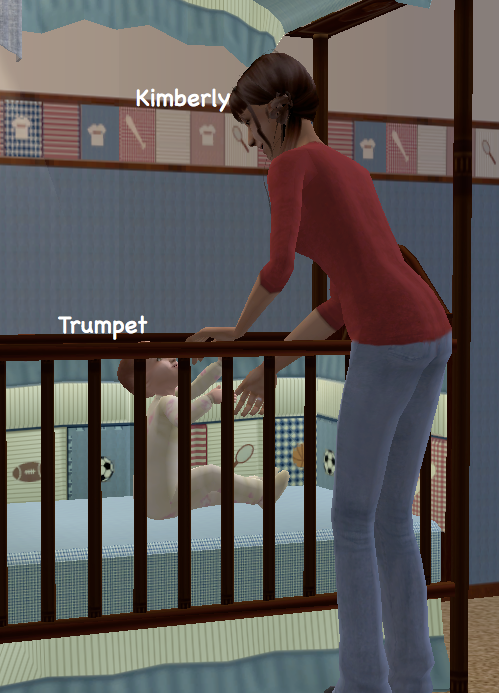 Kimberly:
Good night, buddy.
I think I'll let this ending speak for itself.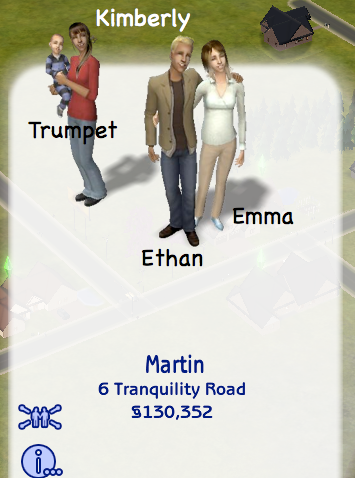 A Message From The Mysterious Voice: So you may have noticed a bit of deja vu this week. The Martins were the last (hopefully) victims of the file limit, and I forgot to "fast forward" the back-up with regards to Kimberly's job. However, since upgrading to Leopard I now have a portable hard drive and Time Machine, so my Sims get backed up automatically every hour or so and that shouldn't be an issue anymore.