Welcome, everybody to Round 3 in Tranquility Bay! First up, as always, is the Scott house.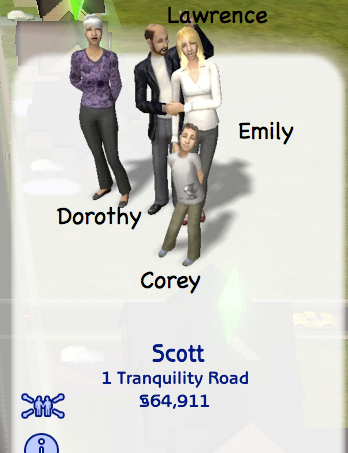 Last round started off with Emily discovering she was pregnant with the child of her live-in fiancee Lawrence. The two were married in a simple home ceremony while the rest of the family was at school or work. Meanwhile, her sons Michael and Jacob both worked on their skills, and as Michael became a teenager they both prepared for college. Emily soon gave birth to a third son, named Corey. On Corey's birthday from toddler to child, Emily's father Robert unexpectedly passed away. We left the still-grieving family expecting another new arrival, with Emily pregnant for the second time.
Corey:
Grandma, I don't want to play red hands right now!
Dorothy:
Sure, dear. I'll show you how.
Alright, so not much has changed as far as Dorothy is concerned.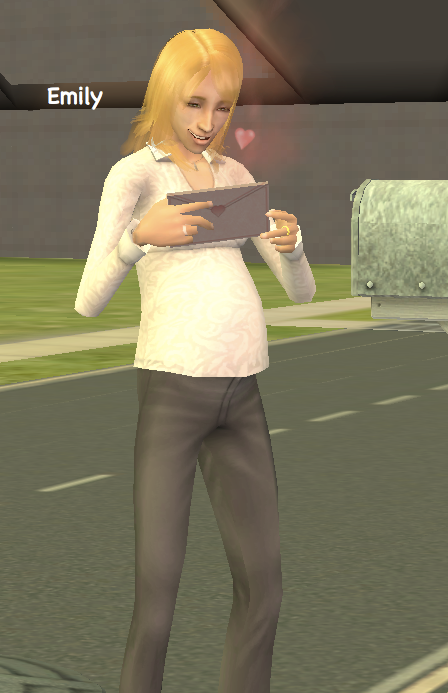 What do you have there, Emily?
Emily:
It's from Renee-one of the boys went on a date with her last week. Don't see why she sent the card to us, though.
Well, she probably doesn't know their new addresses.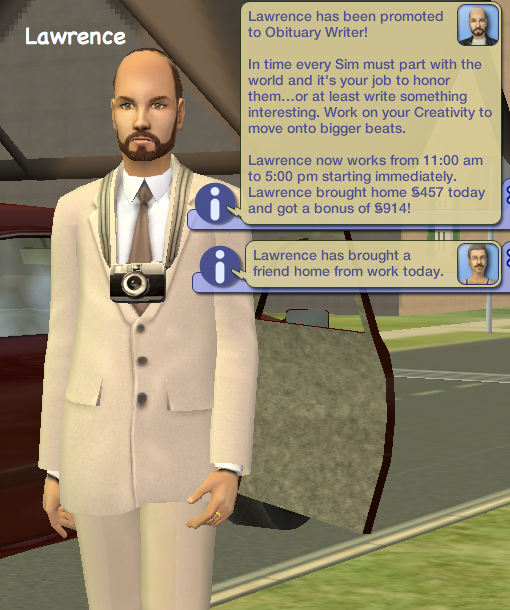 Nice job, Lawrence.
Lawrence:
Just in time, too. We've got another baby on the way.
Really? I hadn't noticed.
Emily:
It's time!
Alright, everybody. You heard the lady, get in here!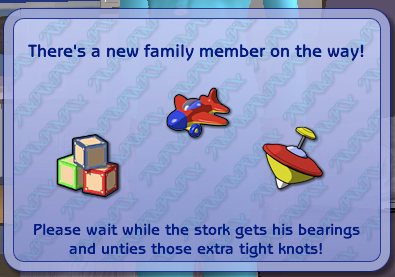 Room for one more...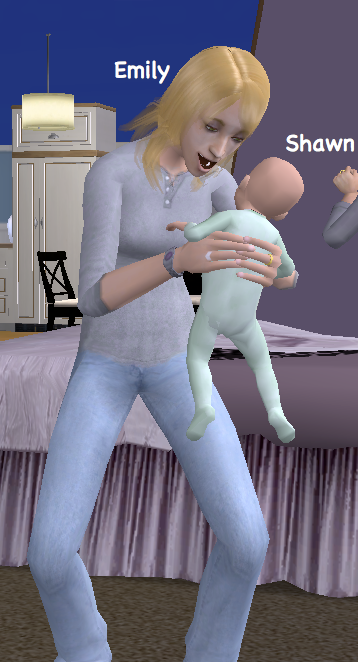 So?
Emily:
I've got a 4th boy. Meet Shawn.
4 boys. That's crazy. Although only two of them are still living here, but still...
Dorothy:
Congratulations, dear!
I'm not even going to try...
Dorothy:
Of course I can't fly! I'm an old woman!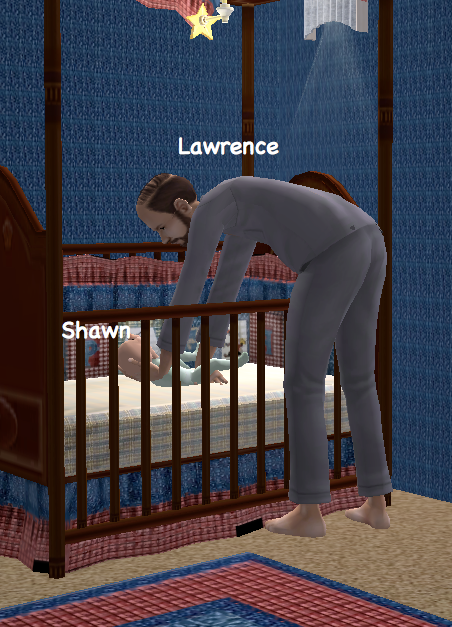 So how does it feel to have two sons?
Lawrence:
Three, actually. I had one from my first marriage, remember?
Oh, right. Have you talked to him lately?
Lawrence:
Come to think of it, no...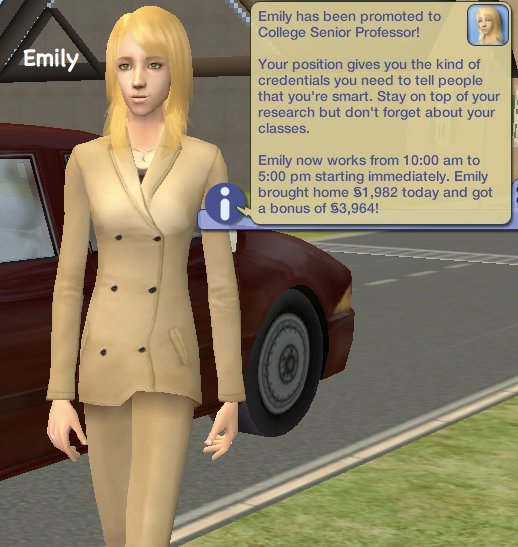 Nice work, Emily.
Emily:
Thanks. It's rough going back to work right after having a baby.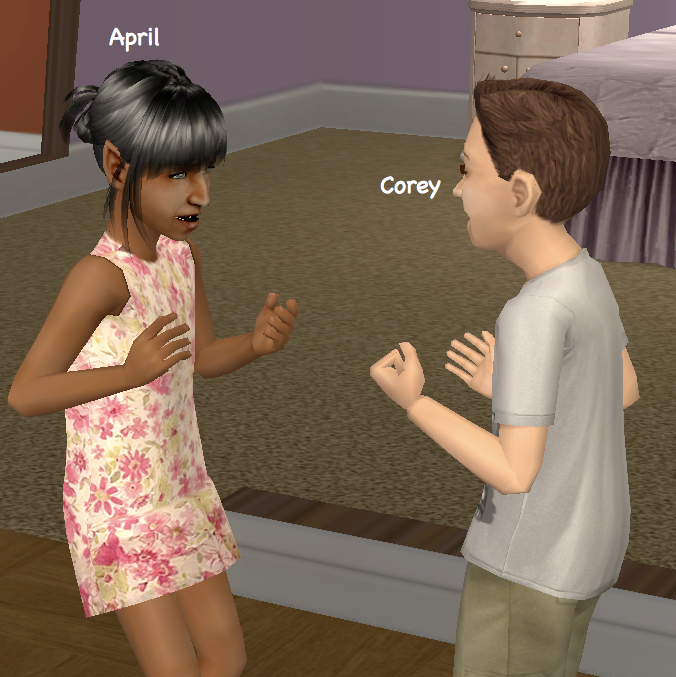 Hey, look. Corey brought home a friend...you two seem to be getting along.
Corey:
Yup! April's really nice!
Uh-huh...let me just mark that down in my mysterious voice notebook...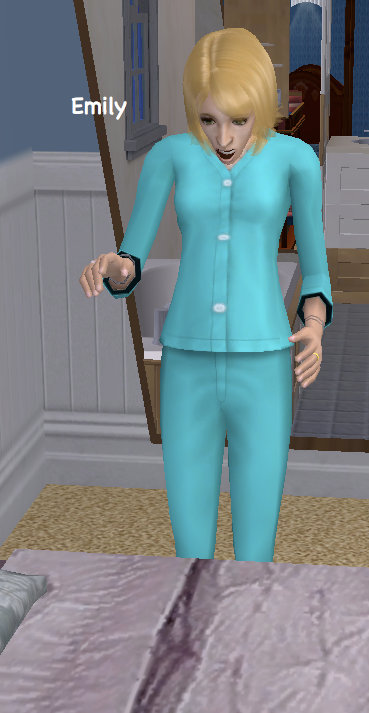 Already, Emily?
Emily:
I really want a little girl.
And I really want you to have one. I'm trying to pass as many of these houses as I can down through the girls.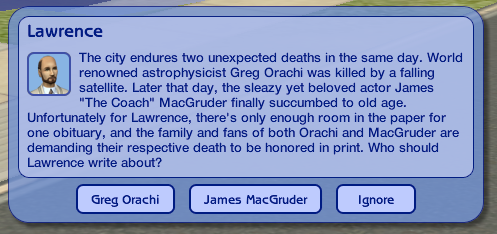 What? A guy dying by satellite is way more interesting.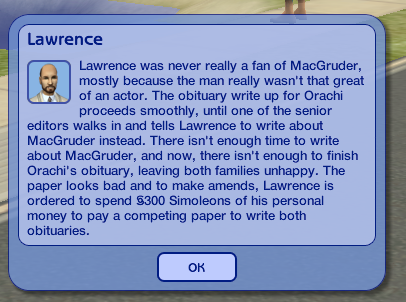 Hmm, guess Sims are pretty superficial.
Corey:
Yeah! I got an A+!
There's something about getting a new sibling...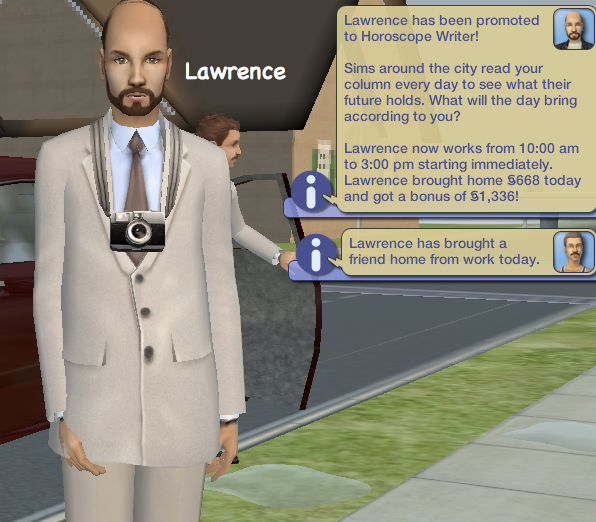 Way to go, Lawrence!
Lawrence:
Thanks. I'm so much closer to my dream!
That sure came up fast...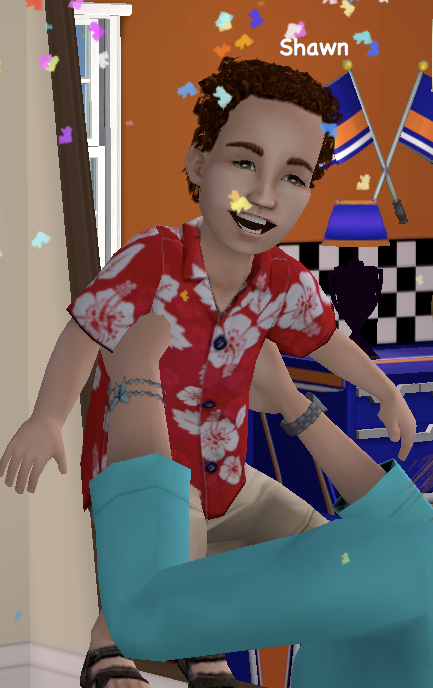 What a little cutie.
Lawrence:
That's it, buddy! You're doing it!
You're such a good father, Lawrence.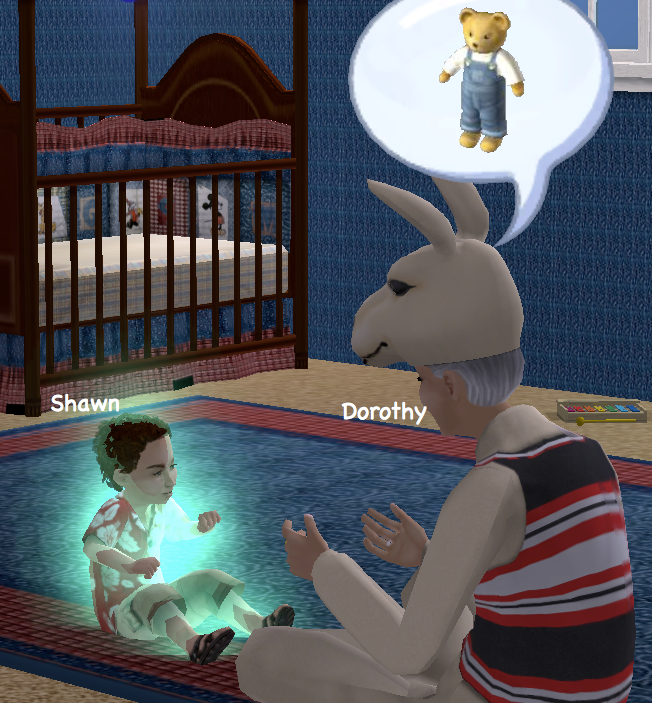 Oh, great. Dorothy is teaching him to talk. That should be good.
Dorothy:
No, honey. Bear....
How do you even know if he says it? You can't hear him.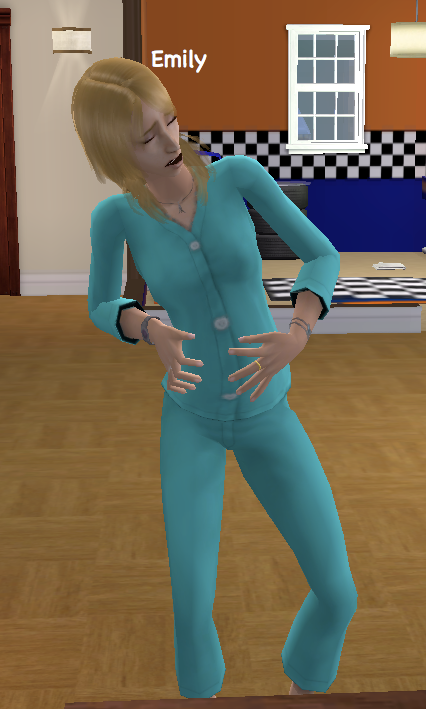 Alright, everyone. It's time...again.
Cross your fingers, everyone. Come on, girl girl girl....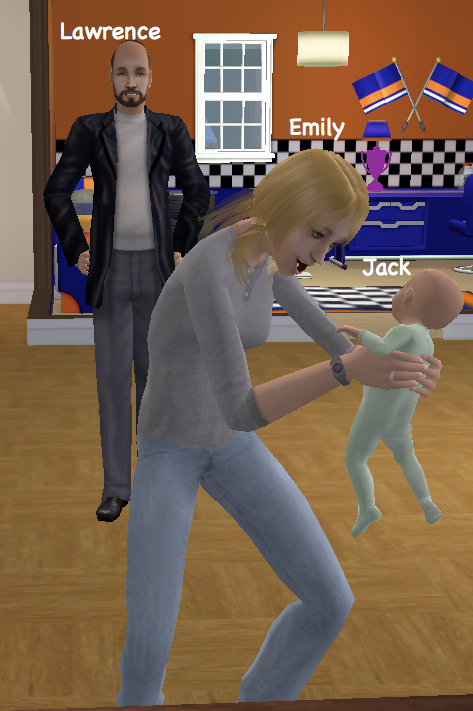 Emily:
And...it's a 5th boy!
You're kidding...that's a lot of boys for one house.
Emily:
You're telling me! Meet baby Jack.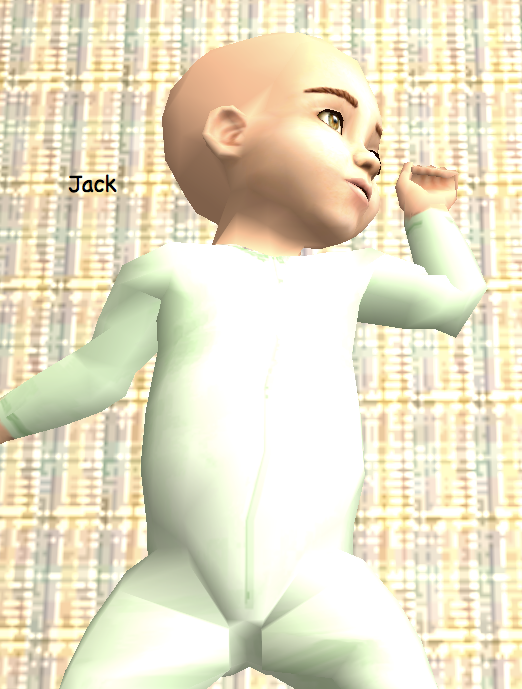 He's a cute little thing, anyway.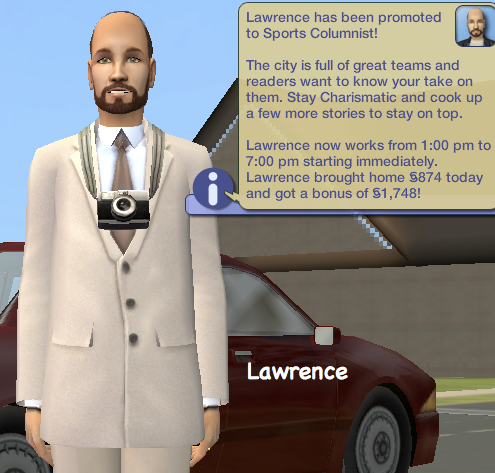 That's a lot of promotions in one week.
Lawrence:
Well, we've had two new babies this week. We need the extra money.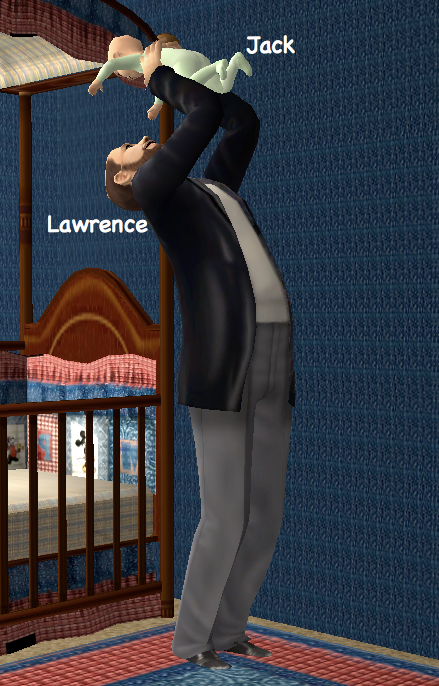 Lawrence:
I can't believe I have 6 sons.
Were you hoping for a daughter too?
Lawrence:
Kind of. But I'm happy either way.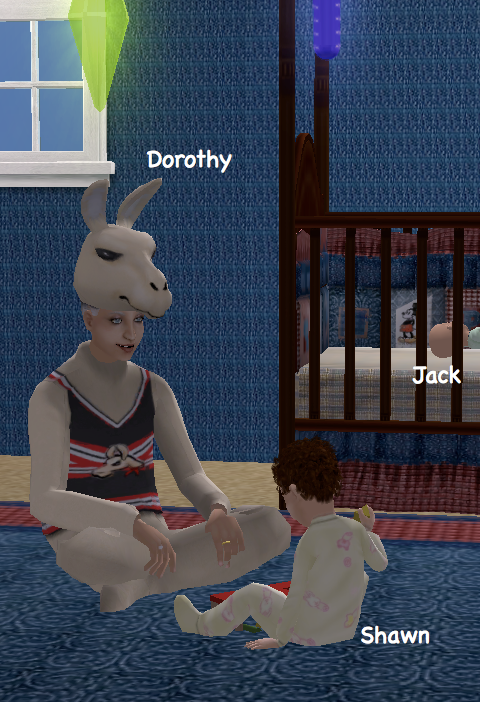 Man, you love spending time in that llama suit, don't you Dorothy?
Dorothy:
Yeah, I did catch a boot. Why do you want it?
Never mind.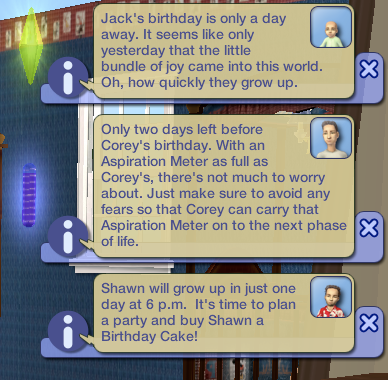 That's a whole lot of birthday...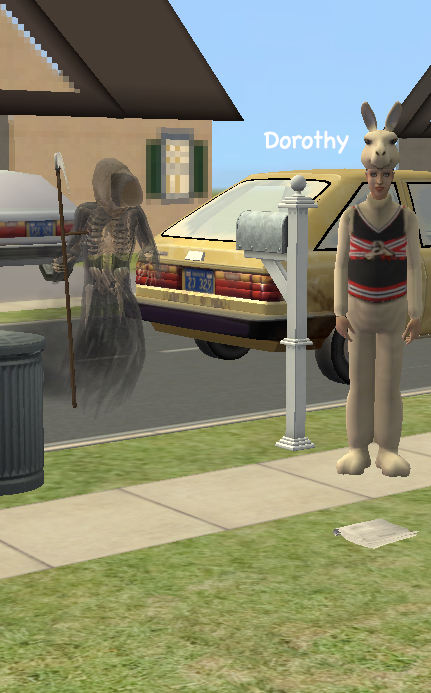 Aww. And now Dorothy has to die in the llama suit. She should make an interesting ghost.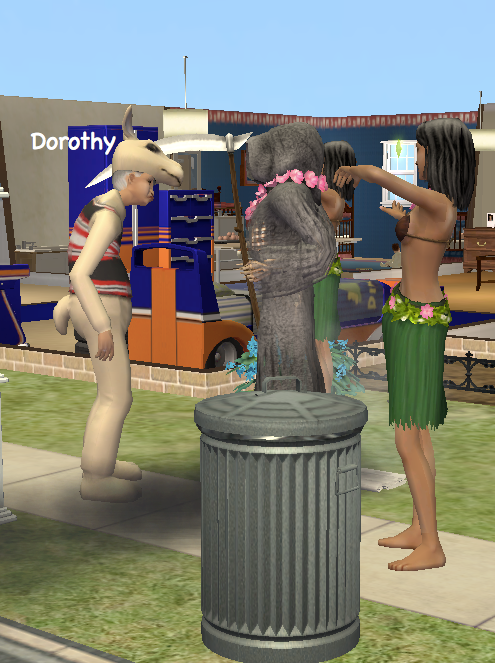 Well, I'd say goodbye but I know you wouldn't hear me.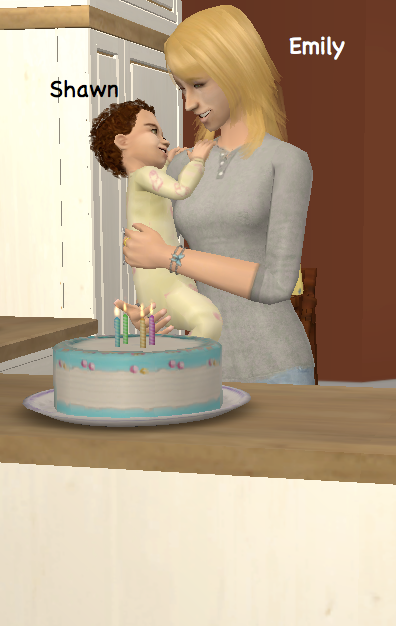 Well, now that the sadness is over time to get on with the birthday fun.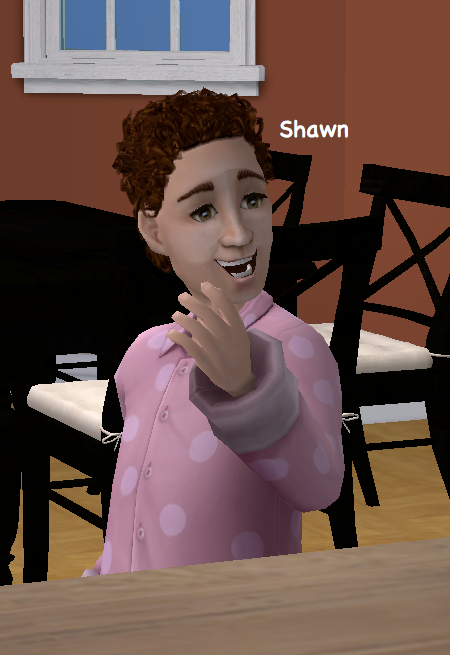 What a nice-looking young man.
Shawn:
Why do I have pink pajamas?
I don't know. Don't worry, you'll live.
And now on to birthday number 2...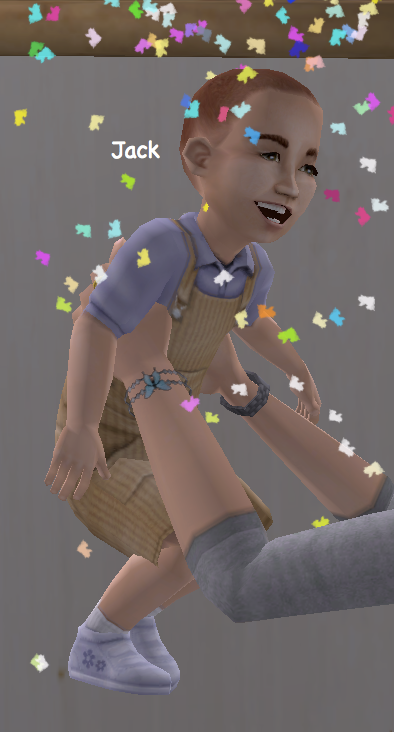 Just as cute as his brother. At least the family is supplying the town with good-looking guys.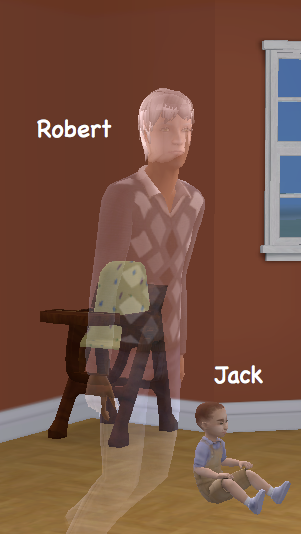 And look who decided to come back for the celebration!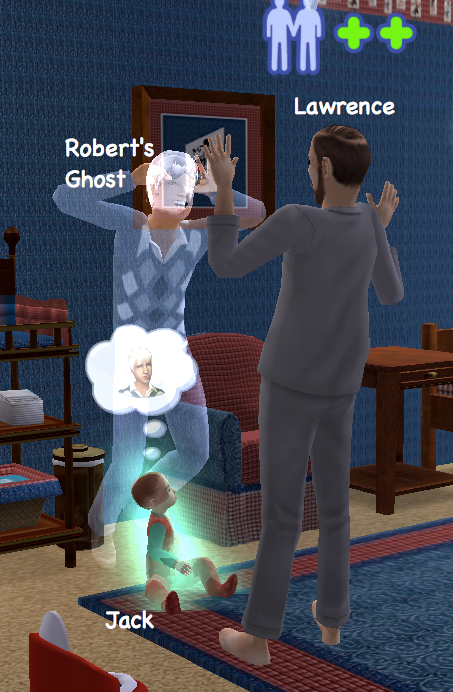 Robert's Ghost:
Ooga Booga!
Lawrence:
Ahhh!
Did you have to do that while he was teaching Jack to walk?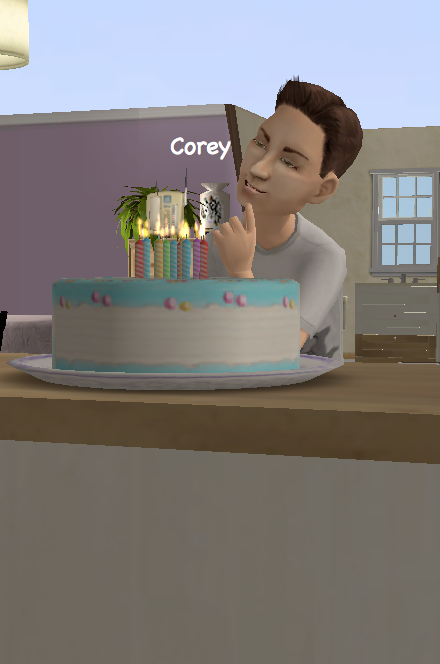 Time for birthday number 3...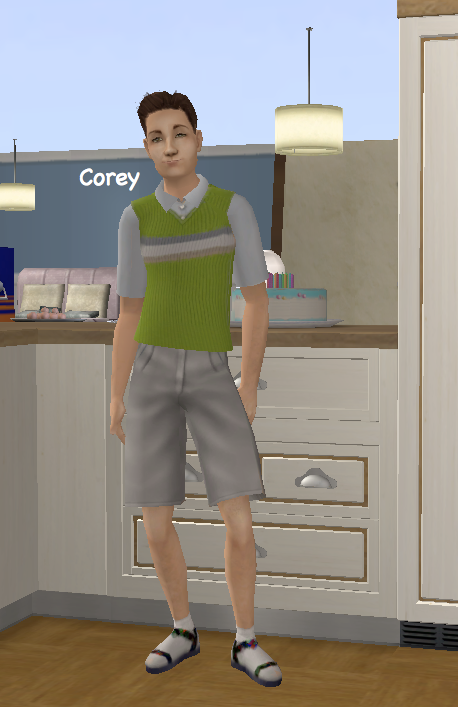 Ok, not crazy about the shorts but whatever. Have you picked an aspiration?
Corey:
Yup! I just want to have fun.
Alright.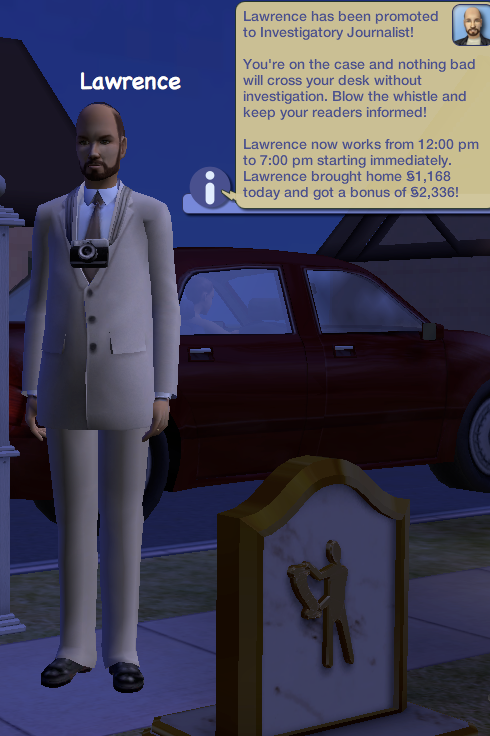 You know, that was a very awkward spot for Dorothy to die. Anyway, nice job Lawrence.
Lawrence:
Thanks.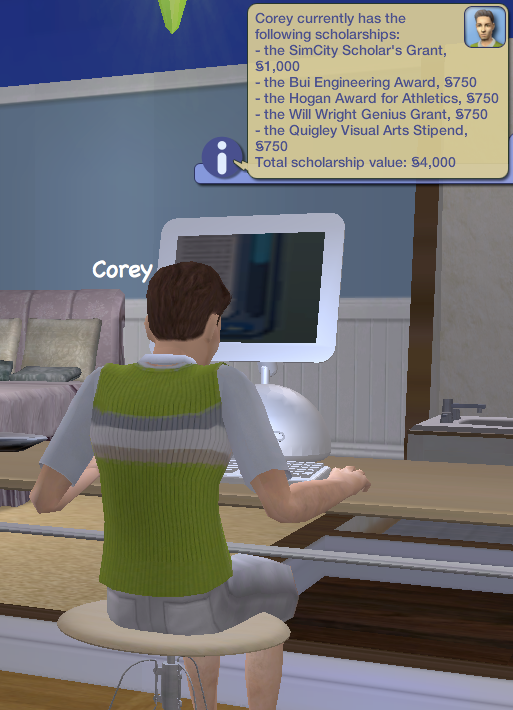 And that just about brings us to the end of the week.
Corey:
Don't I get another week? Jacob got another week.
See you at graduation!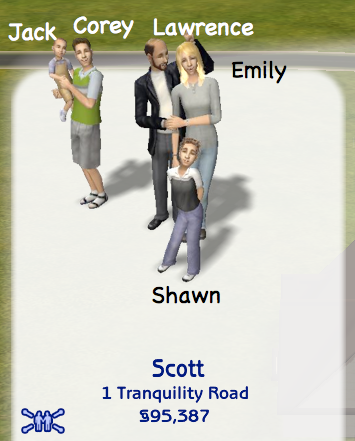 A Message From the Mysterious Voice:

I really wanted this house to get a girl. I'm going to give it one more shot next round, but part of me just wants to cut my losses since another birth would mean another new house in the neighborhood. And I'm actually kind of relieved that Dorothy finally passed away. It was getting very hard for me to write in hard of hearing jokes for her.